Getting new customers for your IoT company… How difficult can it really be?
We decided to analyze some of the top Internet of Things (IoT) companies in Europe and Northern America to see what they are doing to acquire more customers.
If you want to grow your IoT company, you'll need a strong customer acquisition strategy.
The key learnings in this article will help you identify the most effective strategies, tactics, and tools that drive results. We also suggest some improvements to what these companies are doing.
We want to also emphasize that not all of these companies are purely IoT companies.
As the Internet of Things has such a wide range of applications and can be used in many different industries, we picked companies that are a mix of companies.
The companies in this list consist of companies that provide industrial device security, production monitoring, hardware companies that serve brick-and-mortar retailers, and many more.
We decided to focus on the following categories:
Technology Usage & Trends
Website & CMS
Content Marketing & generating opportunities
The companies we analyzed are Arm, Crosser, Relayr, MachineMetrics, Enevo, Foghorn, Augury, Arundo, CoolerScreens, Armis, Flutura, MagicCube, Tive, Xage, Clearblade, Igor Tech, Nodle, Samsara, and PTC.
Are their customer acquisition strategies as innovative as their products? Let's find out.
Why customer acquisition for IoT is different
B2B IoT companies operate differently than many other businesses. The offer can be a combination of hardware and software, making the sale a very complex one.
IoT companies need to be able to influence the buying process as early as possible or risk ending up presenting a solution that does not meet the buyer's needs and losing the deal entirely.
Selling IoT products is complex and time-consuming. The buying process is often sales-led and can take months or years where many decision-makers across multiple departments are involved.
So how do some of the most successful IoT companies acquire new customers?
Here is a summary of our key findings:
76% use a marketing automation platform. The most widely used platform is HubSpot (42.1%). 5.3% used a combination of HubSpot and Salesforce, and 5.3% Marketo and Salesforce.
84.2% did not use a specialized account-based marketing solution. Only one company uses 6sense, and another one uses Engagio.
50% of the companies do not use a conversational marketing platform. 16.7% used HubSpot Conversations, and 16.7% used Drift.
84.2% do not use any IP-tracking software such as Leadfeeder.
42.1% uses WordPress as their Content Management system (CMS).
89.5% have one or multiple blogs where they frequently publish content.
63.2% uses pages specific to industries they target to showcase the unique benefits their product offers to those verticals.
100% of the companies have a product page or a tour page to showcase the benefits of their product.
63.2% offer a newsletter, while 36,8% do not have a newsletter at all.
The most used call-to-action (CTA) was "Request a demo" (26,3%).
84.2% of the companies do not show their pricing on their website. The remaining 15.8% use diagnostic tools or calculators to give buyers an estimate before getting a quote.
84.2% of the companies publish case studies on their website, but a surprisingly high amount of the link to PDF files or gate the case studies.
Only 31.6% of the companies have a FAQ page, while 68.4% do not have one.
73.7% of the companies still use gated content such as ebooks and whitepapers to generate leads.
47.4% offer a partnership program so that other companies can become referral partners, strategic partners, managed service providers, integrations partners, and more.
84.2% leverage video marketing in the form of live webinars, on-demand webinars, explainer videos, or product videos.
Part 1: Technology Usage & Trends
Almost all the companies that were analyzed use tools such as Google Tag Manager, Google Search Console, and Google Analytics.
But what other tools do some of the top IoT companies use to get more sales opportunities?
We split this into four separate categories:
● Marketing automation platforms
● Conversational marketing
● Company and IP-tracking tools
● Account-based marketing solutions
1.1 Marketing automation
In 2021, artificial intelligence (AI) augmentation will create $2.9 trillion of business value and 6.2 billion hours of worker productivity globally, according to Gartner.
It comes as no surprise that platforms such as Salesforce, Marketo, and HubSpot are being used by some of the top IoT companies on this list.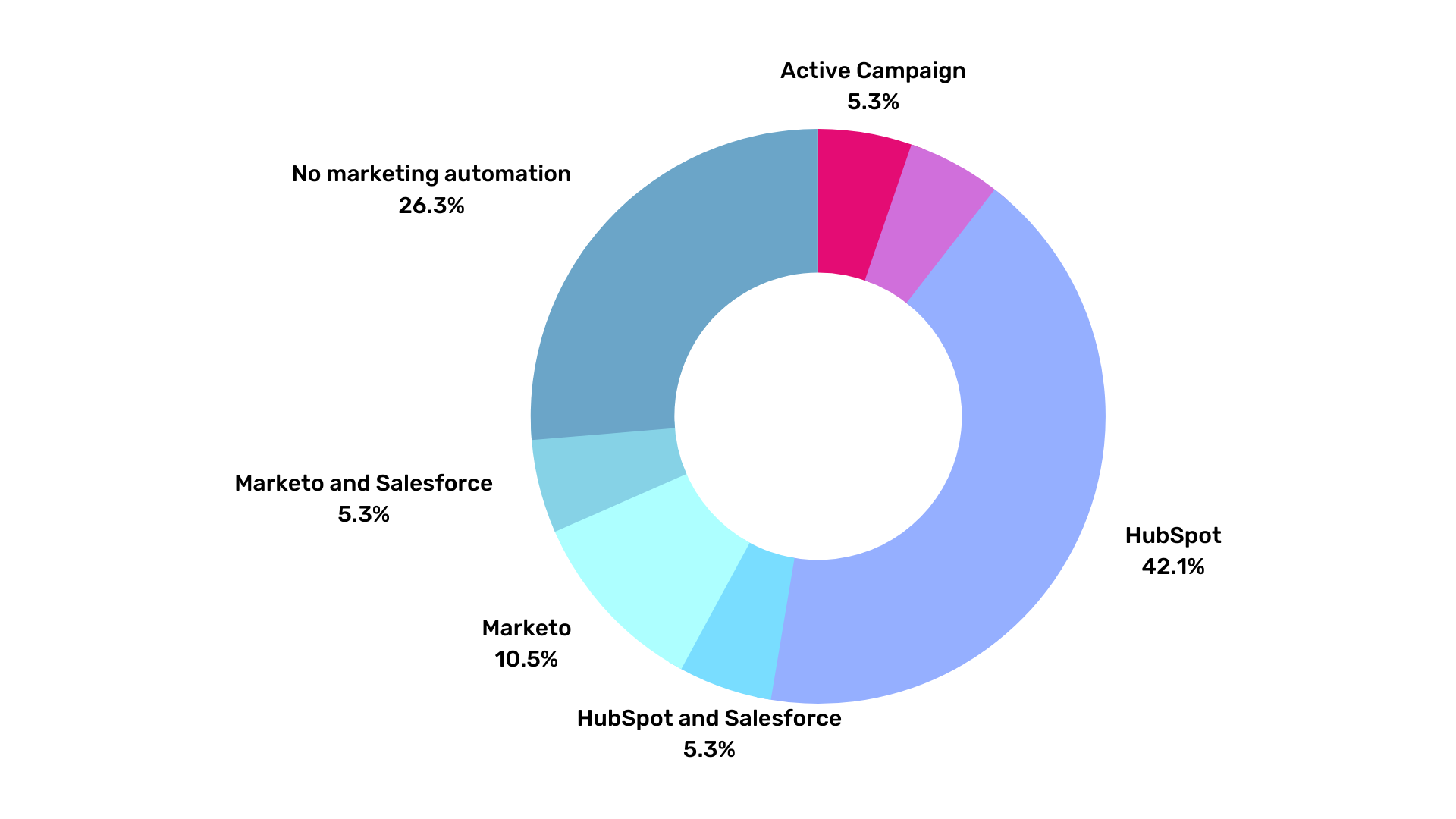 5,3% of the companies use Marketo, and 42,1% uses HubSpot as their platform to manage their CRM, marketing, and customer service.
Based on their "technographics", 26,3% do not use a marketing automation platform at all.
Some companies also combine Salesforce with HubSpot or Marketo as they probably have more advanced CRM needs.
These platforms are ideal for sales-led organizations with long, complex sales cycles that want to manage the whole buyer's journey in one place.
Instead of having multiple fragmented tools, you can have your CRM, marketing tools, and customer service tools under one login to get a holistic view of the customer.
1.2 Account-based marketing
There are many specialized account-based marketing tools such as Terminus, Demandbase, Triblio, 6Sense, or LeadData available on the market.
Only 15,9% of the companies we analyzed are using such tools.
These solutions combine first-party data (such as actions on your website) and third-party data (intent, firmographic, and technographic) to dynamically create and target the right accounts.
This data is then used for serving display ads, retargeting ads, web personalization and more.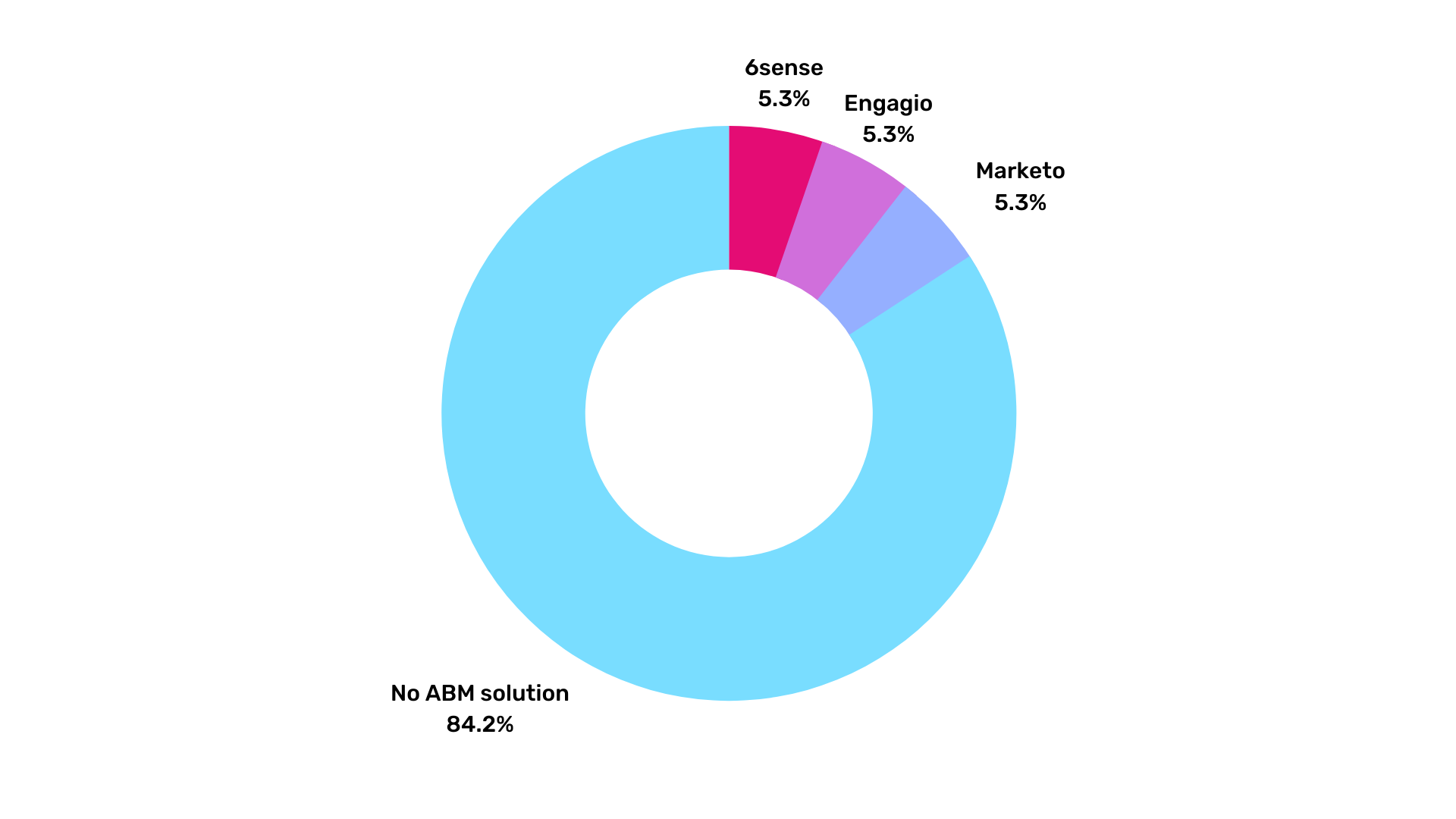 Account-based marketing tools help companies build prospecting lists, create targeted advertising campaigns, or manage whole account-based marketing strategies.
But do you really need them?
Most companies do not start out with such tools unless they have a very high average customer value (ACV) and a small list of accounts that require 1:1 personalization.
Although they offer impressive features, they require a very high level of investment of time and money, and you need a sophisticated sales and marketing team to really benefit from these tools.
Most companies can get great results when starting out by using the built-in account-based tools in HubSpot or Salesforce, and leverage firmographic LinkedIn ads to reach their ICP.
1.3 Conversational marketing
Only 44.4% of the companies we analyzed are using a conversational marketing platform such as Drift, HubSpot Messages, or Intercom.
Drift claim that conversational marketing will help sales and marketing teams to deliver more revenue without adding a bigger headcount while automating the lead capture process.
By using AI, these tools can ask qualifying questions to prospects and route them to the right salesperson, even if it is outside normal working hours.
You can also reduce friction in the sales process by replacing forms with conversations, either with a real person or a bot that asks some relevant questions to your website visitors.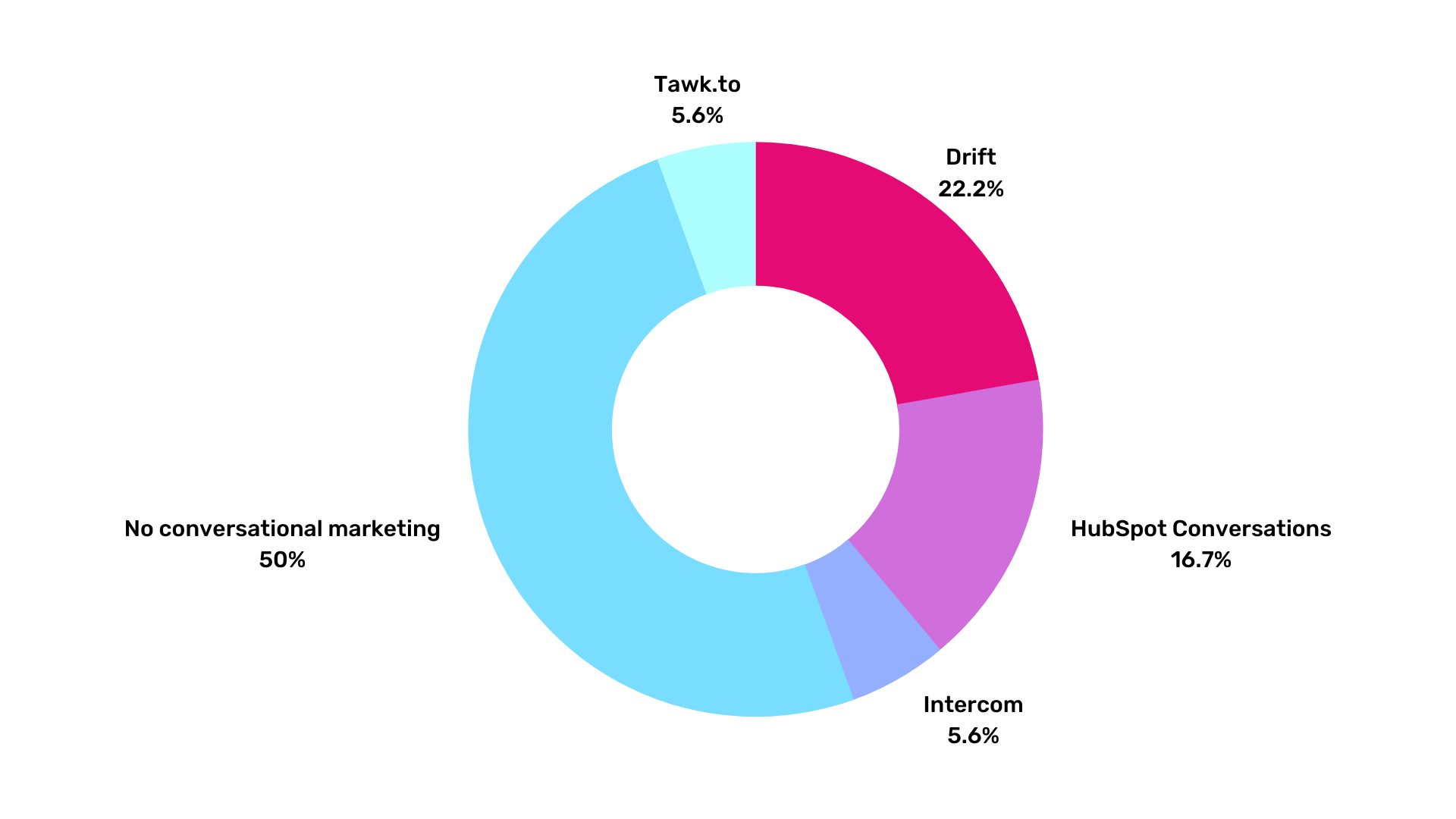 On top of that, conversational marketing tools help you to amplify your personalization efforts by customizing messaging for each campaign.
Let's say one of your most important prospects is on your pricing page.
In this case, a tool such as Drift can notify and connect the responsible salesperson with this prospect through the chat widget.
If you want to add conversational marketing to your customer acquisition strategy, Drift is the clear market leader in this category.
While it definitely is on the high-end when it comes to pricing, it also has the most robust features that help you capture leads, qualify leads, and accelerate your pipeline.
Other great alternatives are HubSpot Conversations or Intercom.
1.4 IP-tracking
Only 16,1% of the companies we analyzed are using an IP-tracking tool such as Leadfeeder, Userinfo, LeadLander, or Albacross.
These tools are used to collect information about which companies are visiting their company website, automate sales prospecting, and enhance your account-based marketing efforts.
IP-tracking tools let you identify anonymous website visitors and help to identify which companies are showing intent to buy as they engage with your website.
A lot of website visitors will never convert on a form or a chatbot. This means you are missing out on conversations with potential buyers.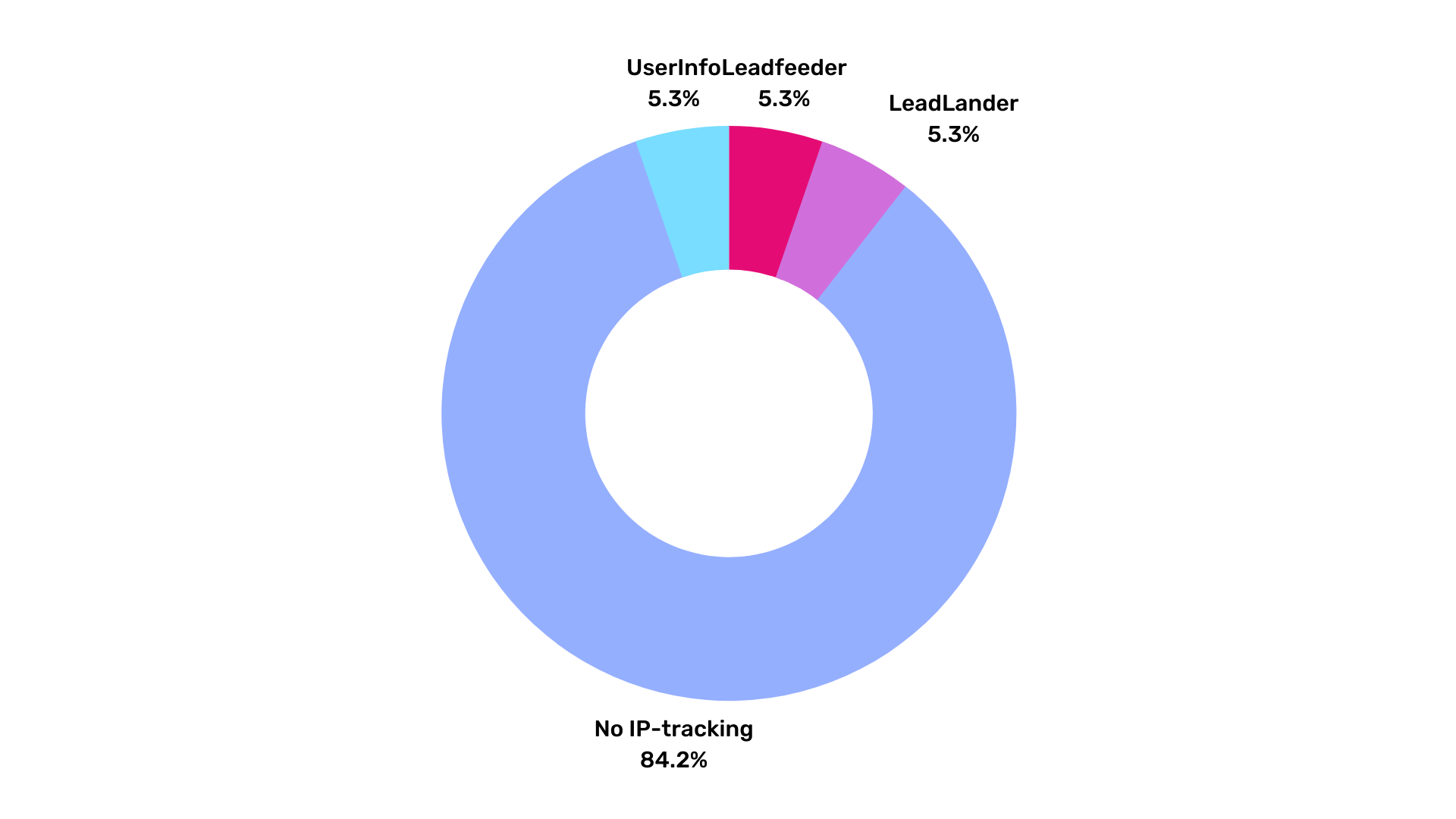 On top of turning anonymous visits into named accounts with high intent, they also give you enriched information for each of them.
This information can be used to segment lists based on industry, geography, employee number, web activity, custom properties, and more.
The data can then be synchronized either with marketing platforms such as HubSpot or Salesforce or to LinkedIn to create a matched audience.
Part 2: Website & CMS
2.1 Content management system (CMS)
42.1% of the companies we analyzed are using WordPress as their Content Management System. WordPress is an Open Source solution that is used by over 30% of the web.
In this category, the number of different content management systems was very diverse.
Other than WordPress, these companies were using content management systems such as Sitecore, Umbraco, GetFused, HubSpot CMS, Squarespace, Laravel, Gatsby, and Contentful.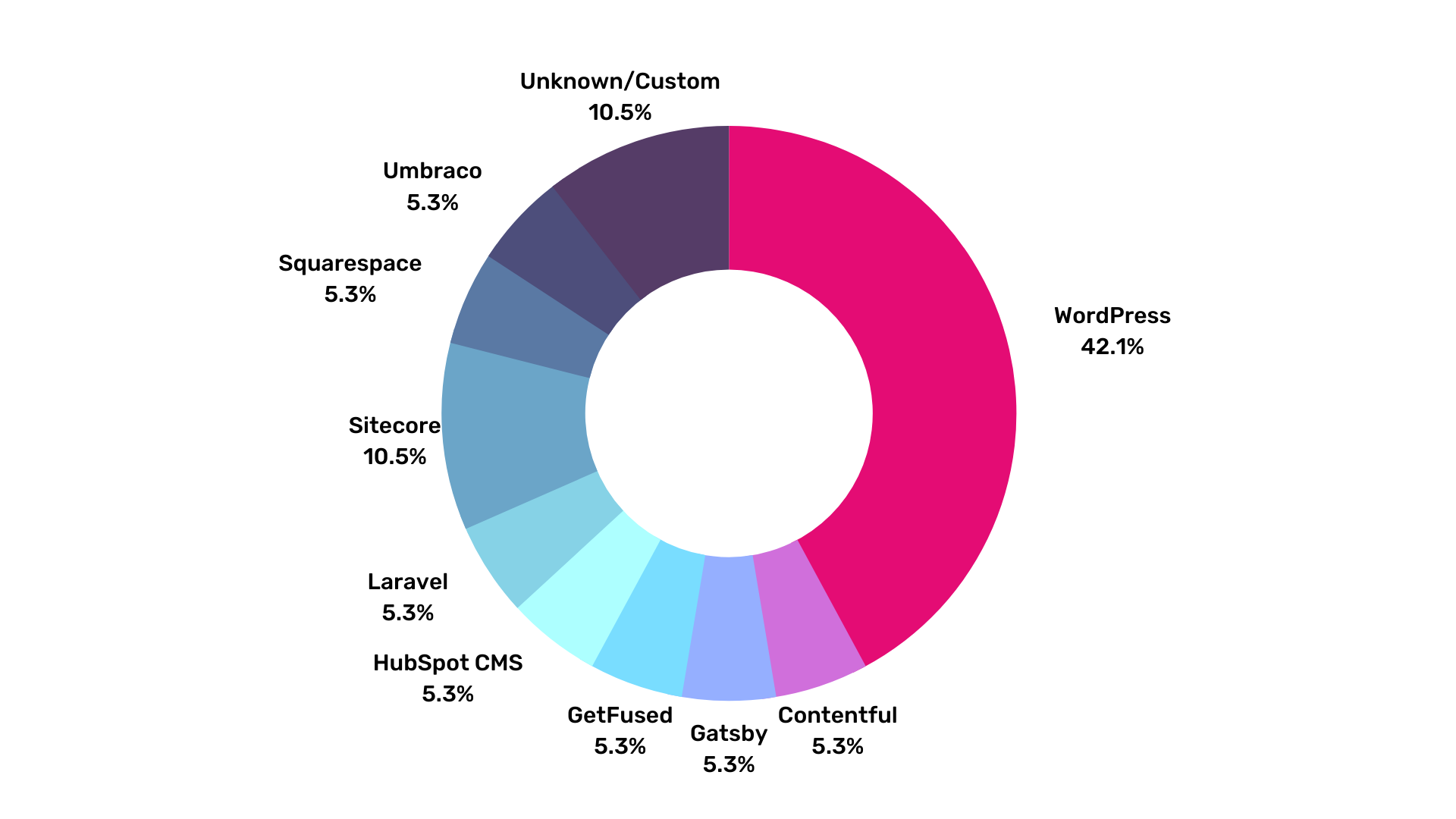 If you are a sales-led organization that wants a website that generates more inbound sales opportunities, WordPress can work fine if you have a developer available to manage it.
To have a great WordPress website, you need third-party hosting, an SSL certificate, and installing and updating plugins that give the functionality you need to capture inbound opportunities.
As a HubSpot partner, we are a bit biased, but we usually recommend the HubSpot CMS instead of WordPress.
With the HubSpot CMS, all the features you need such as SSL, security, SEO tools, CRM integration, drag-and-drop editor, forms, and much more come bundled together.
On top of this, the HubSpot CMS also gives developers the flexibility to create the modules or applications on top of HubSpot.
For the IT department, the HubSpot CMS comes with dedicated 24/7 support,
Features include security monitoring & threat detection, enterprise web application firewall, custom CDN, SSO, activity logging & partitioning, and much more.
2.2 Product tour pages
Not surprisingly, all of the websites we analyzed have some form of product tour page that educates visitors about their offerings and gives them answers to frequently asked questions.
Most IoT products cannot give prospective buyers an in-app tour as a pure SaaS can, and when the list of features is comprehensive, an IoT website can quickly overwhelm the visitor.
A well-built IoT product tour page, however, can give visitors an overview of the features, the problem it solves, the industries you serve, and the typical use-cases the product has.
Product pages inform prospective buyers about the features and the outcomes their products can deliver, enticing them to contact and buy from you.
Product pages are also important because they help you target high-intent keywords in search engines, making it a great source of highly qualified leads.
One excellent example of a great IoT product page is Machine Metrics. They are able to easily explain their platform by using high-quality visuals.
Their product page is also doing a great job at combining the outcomes one can expect from using their platform with product features that a technical buyer needs to know before buying.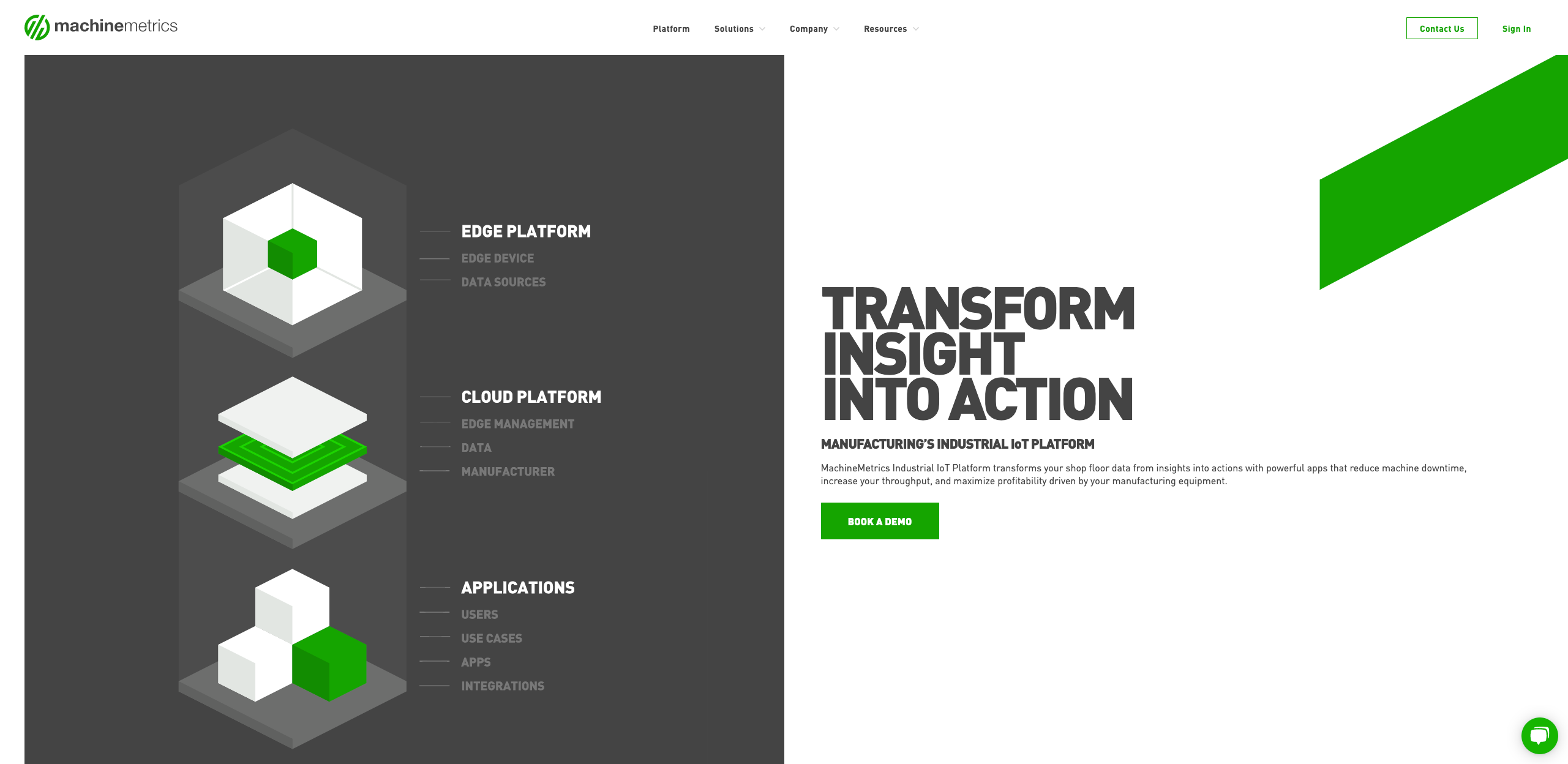 Another great example is the Industrial IoT platform product page from Armis.
By using a clear hierarchy of headlines, great visuals, and easy-to-read formatting, they do an excellent job at making the page scannable and easy to understand.
This is crucial when explaining a complex product with many features.
They also link to specific feature pages to give different types of buyers the information they need without making the page too long or busy.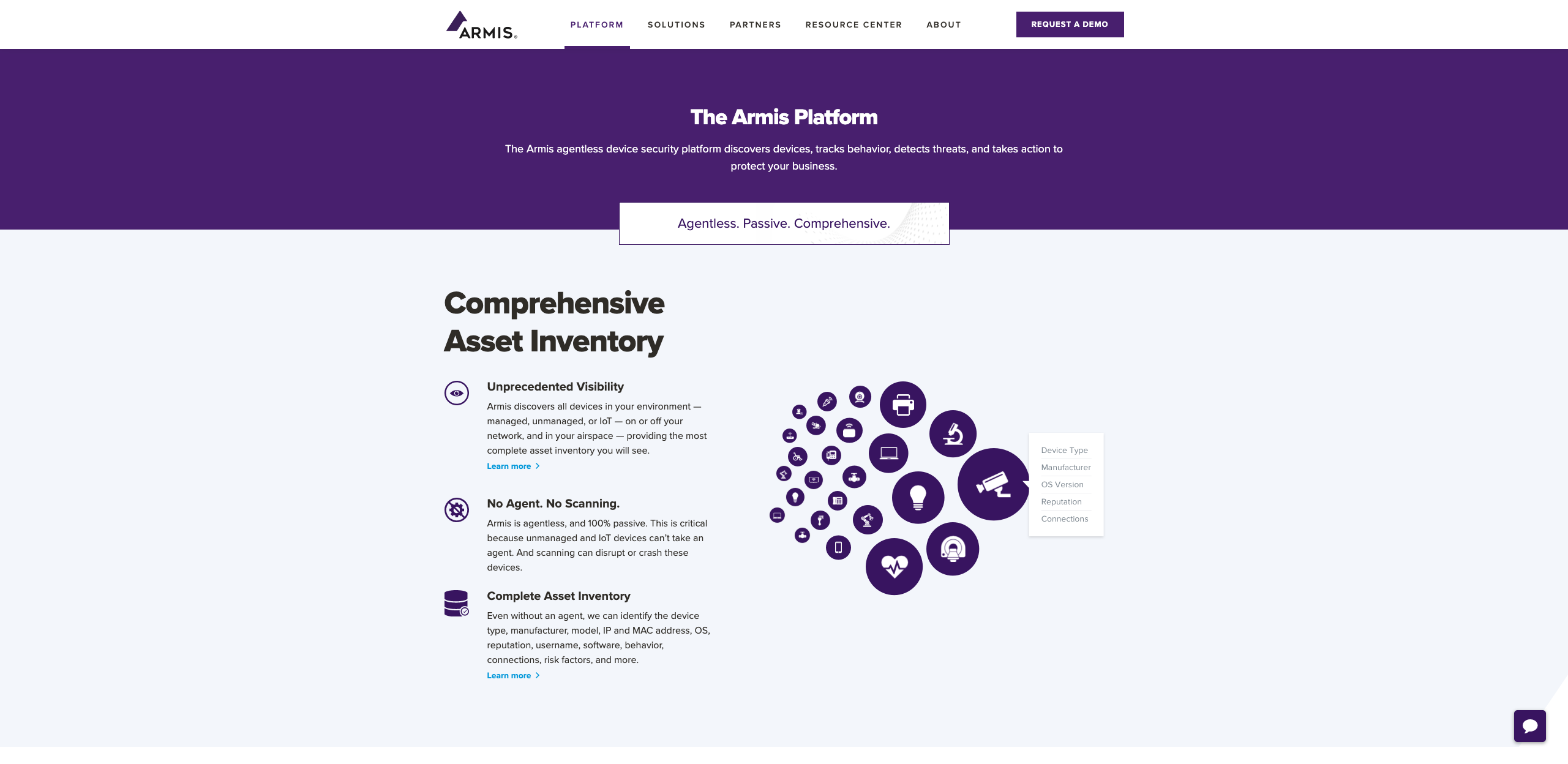 2.3 Case studies
An effective content marketing strategy takes your prospects from being unaware to becoming paying customers.
This requires a variety of content such as informative blog content, engaging web pages. However, the most powerful, but often underused, piece of content is the case study.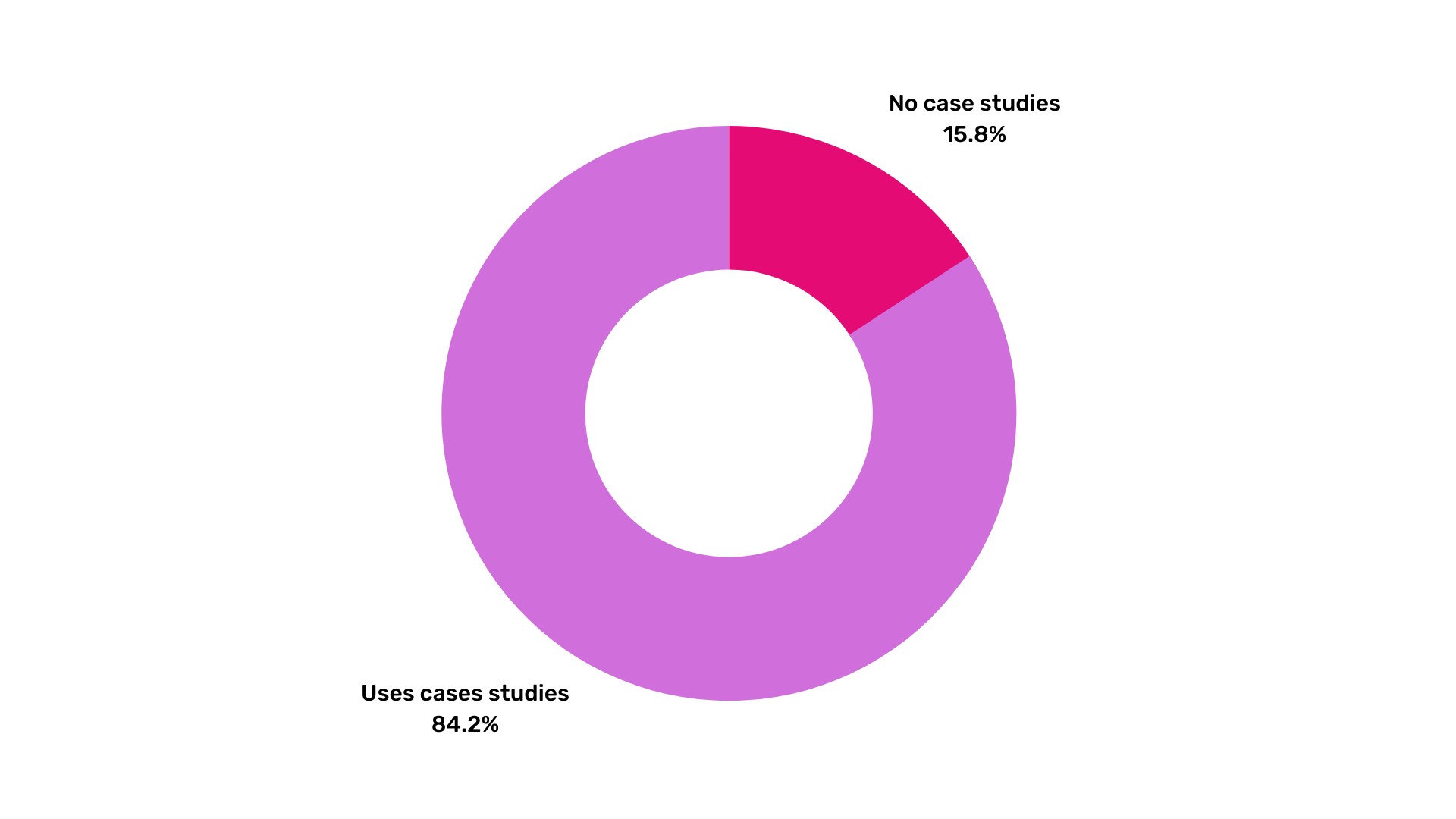 While 84.2% of the companies we analyzed are currently publishing a form of case study on their websites, a surprising amount of them just link to a PDF!
Case studies in a PDF format are a great resource for salespeople to access when sending a follow-up email to a prospect.
However, publishing it on your website as a PDF means you are not leveraging one of the most powerful content assets in your toolbox.
Case studies work to give prospective buyers reassurance before contacting you.
Ideally, it is framed through a process that shows that you have delivered a result on a consistent basis for other similar types of customers in the same vertical.
A case study can also be a great asset to promote with paid social that target your ICP.
Using this approach, you can leverage case studies as a way to build your brand and awareness around your product for a very low cost.
2.4 Industries pages
An industry-specific product page is similar to a product page but targeted towards a specific type of client or industry.
These types of pages are a great way to show the benefits your product can provide in that industry, and gives you the opportunity to answer any questions only that vertical has for you.
These pages are also a way to create more targeted ad campaigns, either through firmographic targeting on Facebook, LinkedIn, or through search where buyers in say the healthcare field might search for "medical device security" or "smart hospitals".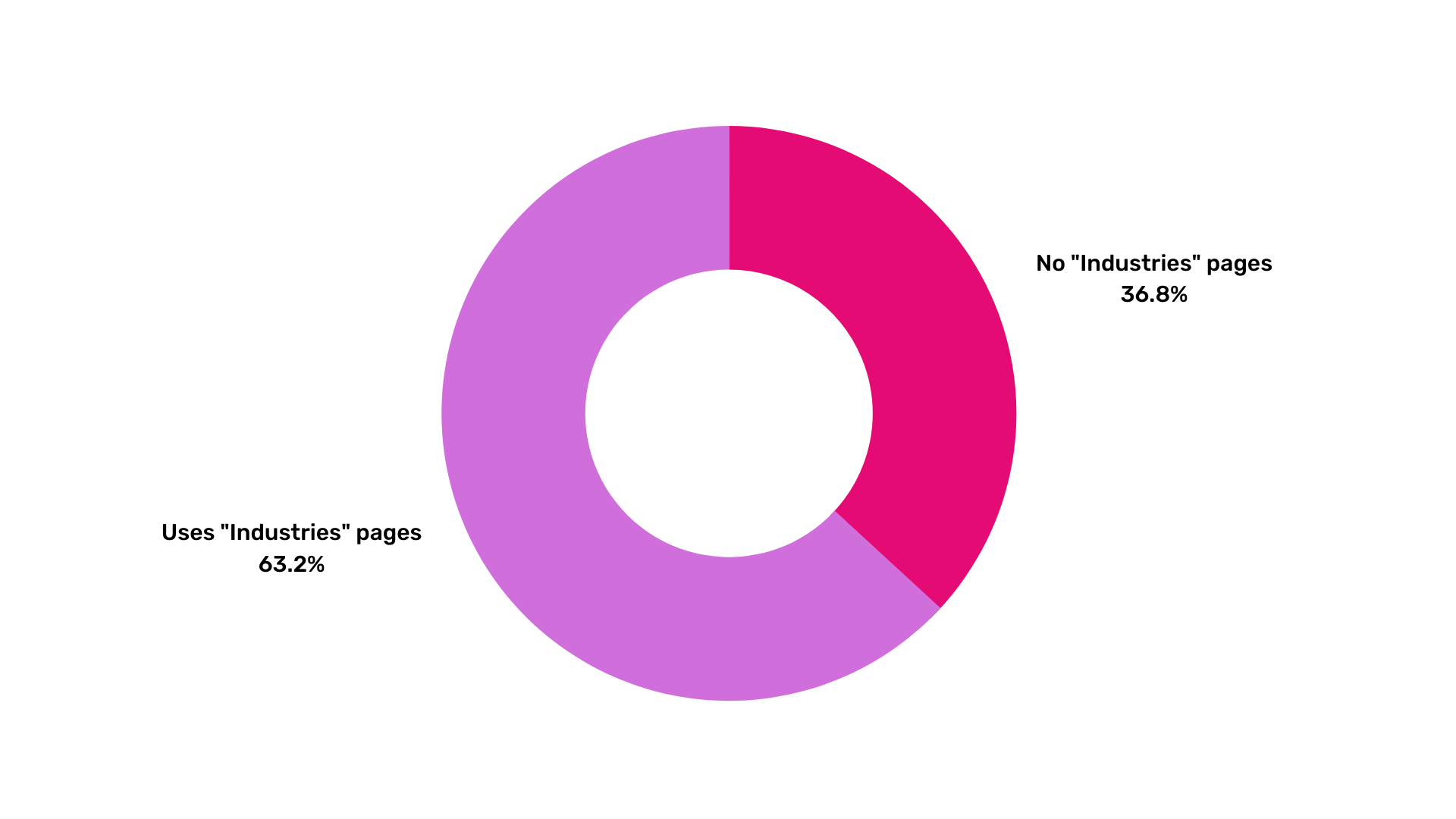 63,2% of the companies we analyzed are using industry-specific pages. Companies such as Armis do a great job of showing the benefits of their product for each vertical.
A good example is their Retail Cybersecurity page or Augury's Consumer Packaged Goods industry page.
By creating individual pages that showcase the benefits of your product for each industry you target, you make it easy for searchers to find you.
By linking to industry pages in your main navigation, you also help potential customers get to the information that is the most relevant to them.
2.5 Pricing page
Everyone wants to know what a product or service costs.
The challenge in B2B is that solutions are often tailor-made with multiple price points for different customers, industries, bandwidth, number of devices, number of users, and other variables.
It is understandable that only three out of 19 companies (15,8%) we analyzed to address the price of their products on their websites.
Companies such as Tive and Samsara use calculators to give visitors an estimate, while Crosser shows a list of products that address pricing to a certain extent.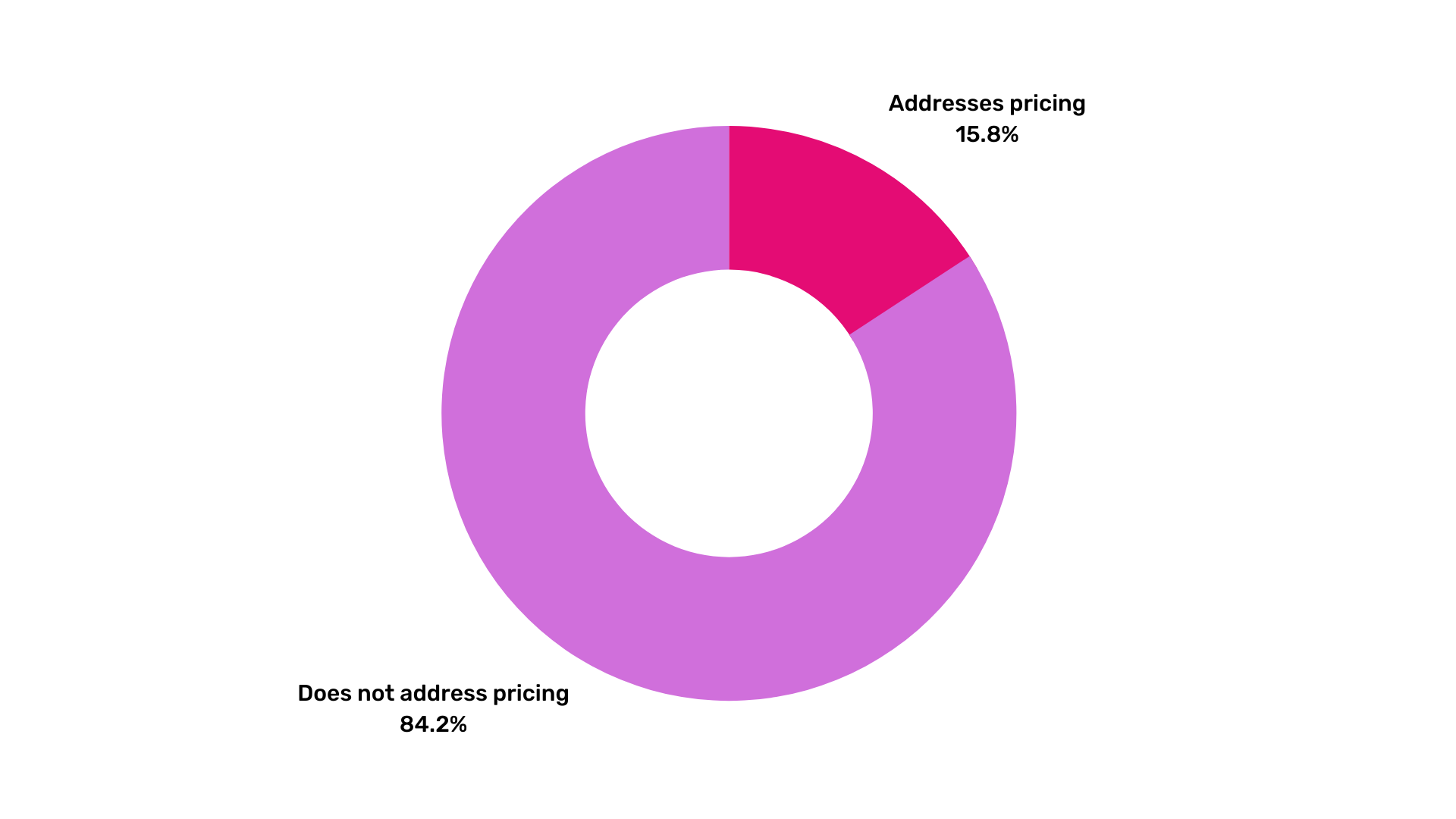 Even if you sell a complex IoT solution that is customized to each customer, you should at least address pricing on your website and give the buyer an expectation of the level of investment.
You don't necessarily have to give an exact price for what things cost, but you can still discuss what factors affect the price for the buyer.
Some will argue that they do not want to reveal their prices to their competitors.
The likelihood is that they already know to a certain extent. If you have been in competition with another company you will often hear what the prices are anyway.
If you can't give an exact price without talking to the buyer, at least direct them to an article or a calculator that will give them a range of prices.
By addressing pricing, you will be able to attract buyers with high intent through search.
You will disqualify the buyers who cannot invest at the necessary price level, and you will attract more of the right type of buyers.
2.6 Call-to-Action
Almost all of the websites we analyzed did a good job of directing visitors towards a specific action by using a primary call-to-action (CTA) across their whole website.
A good website will typically have one action they want visitors to do, and this is done by using action-oriented language such as:
● Request a demo
● Watch demo video
● Request a trial
● Start a pilot
● Check our prices
● Get started
● Contact us
It might sound too simple, but it is very frustrating for visitors to not have a clear next step.
Not having a primary call to action will result in fewer inbound opportunities from your website. If you do not have a clear next step on your website, use some of these examples as inspiration.
2.7 FAQ page
Every buyer has questions about your product.
You can answer these questions on your blog, on a webinar, or in other formats, but it can also be highly beneficial to gather all the frequently asked questions and answers on a single FAQ page.
FAQ pages save time, reduces friction in the sales process, and are a great way to rank for keywords in organic search, making it a simple but high-impact page.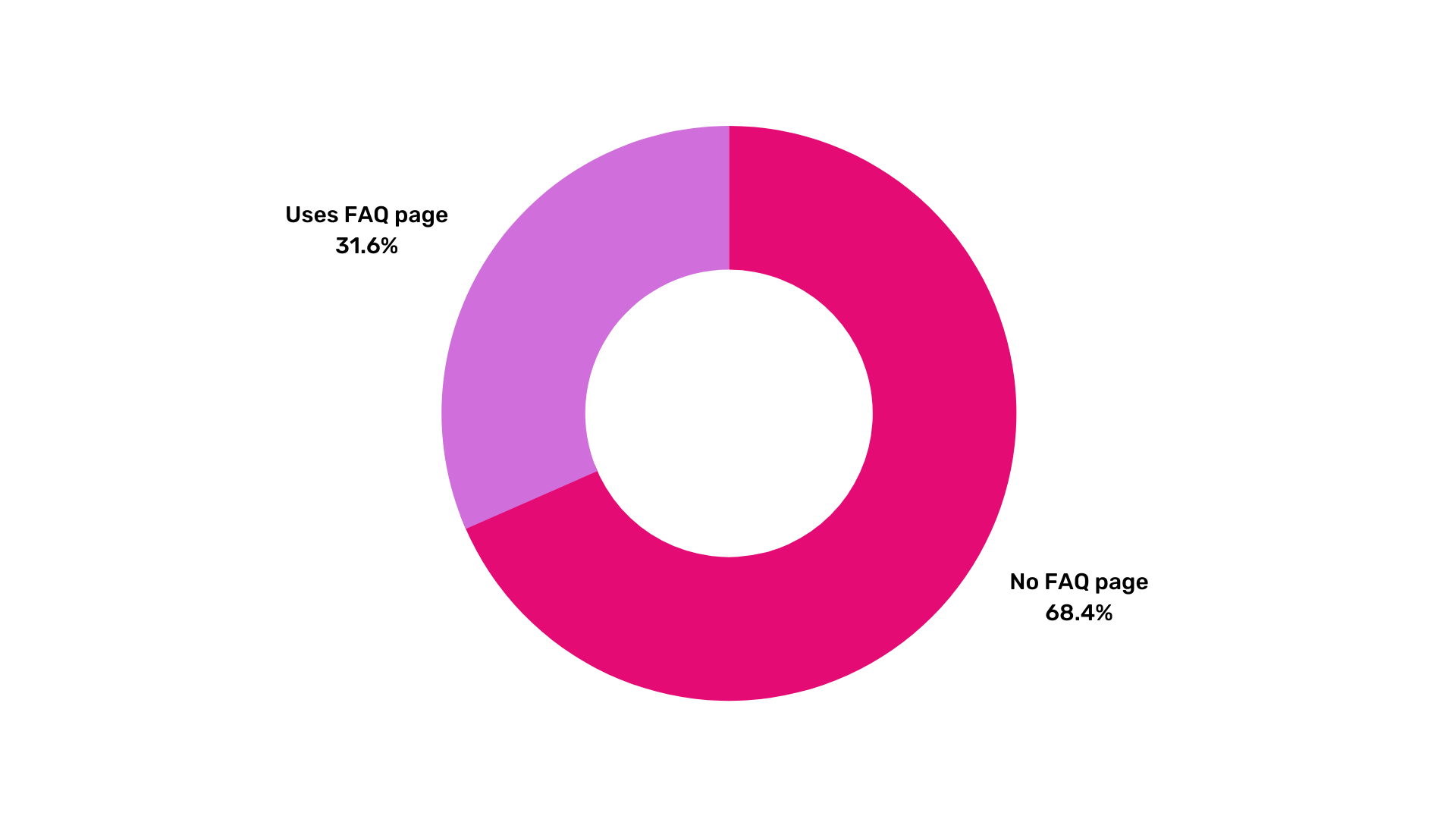 Companies such as Enevo do a great job with their FAQ page.
As they have structured the page such that each question is a headline, they increase the likelihood of them being found through a featured snippet in the search results (SERPs).
Flutura's FAQ page takes it to the next level by having different tabs of questions that might target different types of buyers (for example technical buyers or the end-user).
2.8 Pillar pages
According to HubSpot, "A topic cluster is a method that uses a single pillar page as the main hub of content for a given topic.
All of your content assets related to that topic link back to the pillar page -- and the pillar links out to each asset."
A pillar page is built to cover all aspects of a topic on a single page, and it usually contains a high word count, multiple images and videos, and links to related content such as shorter blog posts.
The pillar page should be so in-depth that other people view it as the go-to source on that topic, making more people link to it.
A pillar page does not always make sense for every company. Is there existing demand and search volume for that topic and keyword?
If the market is not yet aware of the topic you want to write about, you probably should use paid social media to create awareness around it first.
Creating a pillar page is also a big investment, as the word count can range from 3000 to 10 000 words.
On top of that, you need to invest a lot of time in promoting the pillar page, building links to it, and making updates to it over time.
Several of the companies we analyzed are using pillar pages.
For example, Armis have created pillar pages around common security vulnerabilities in devices such as CDPwn and Etheroops, which they are currently ranking in first place for both terms.
While the visitors to these pillar pages will not necessarily become customers right away, Armis is probably building awareness for their company and product, growing their retargeting lists, getting more webinar signups and so on that can lead to a bigger pipeline at a later stage.
Part 3: Content & Lead Generation
3.1 Blogging
89.5% of the companies that were analyzed have at least one blog where they publish new content. There are over 70 million new posts appearing on WordPress blogs alone every day.
You need a steady stream of written content to get found in search engines, build thought leadership, and create awareness for your brand.
Contrary to a lot of marketing advice, blogging is also a great way to either target keywords that are related to the product you sell.
By answering the most asked questions and addressing objections your salespeople get in the sales process, articles can be a great way for sales to close more deals as well.
Another interesting approach for companies such as Crosser is that they have created multiple blogs to target different industries or verticals.
Multiple blogs can be a great idea if you are trying to reach out to different audiences and you have a greater range of products.
Having more than one blog can also make the UX better for your subscribers as they can have more control of what topics they subscribe to.
3.2 Gated content
According to emarketer, 9 out of 10 companies use gated content.
This is one of the most widely used tactics where companies generate inbound leads by giving away free ebooks, whitepapers, or checklists behind a form on a landing page.
73.3% of the companies we analyzed are using gated content. Unfortunately, this is becoming one of the more wasteful tactics companies are using to generate leads and customers.
But if we are being honest, who downloads and reads e-books these days?
The internet is flooded with generic ebooks about "Introduction to XYZ" or "The Ultimate Guide to ABC".
More buyers are leaving fake addresses, or they give away their personal contact information as they browse the web using their mobile phones.
This means that companies are paying a lot of money to Facebook, LinkedIn, Google, and content syndication networks to send traffic to low-converting landing pages.
On top of this, forms and PDFs make for a horrible user experience, especially on mobile, hindering content consumption.
Companies have to realize that creating content is the baseline today, and it is time to consider other ways of attracting leads.
Buyers are tired of being called 5 minutes after downloading the offer or receiving way too many lead nurturing emails.
Unless your content offers are performing very well, meaning they generate quality leads that convert to revenue, it might be time to consider a different approach.
Don't spend several months and a ton of effort creating an ebook that will only produce a few mediocre leads per month.
I recommend putting the same content on a webinar or live stream, interview a subject matter expert on the topic and distribute it on Facebook, LinkedIn, and YouTube.
Instead of focusing on generating marketing qualified leads, focus on building your brand awareness.
This will increase the demand for your product and generate more sales opportunities than pushing people through a funnel.
3.3 Co-marketing
According to HubSpot, "Co-marketing can be beneficial for any brand that wants to broaden their audience, increase brand awareness, and offer a new type of content to their audience.
It's the process of growing two or more businesses at the same time by working together to share expertise with, and offer value for, their audiences."
The content, let's say a webinar, can be used to cross-promote two products or companies that complement each other, with both parts getting twice as much exposure as they normally would.
For example, Armis run webinars with other companies in the healthcare industry or a supply chain company.
Companies such as Foghorn work together with big players such as Intel to build brand awareness and generate qualified sales opportunities.
3.4 Microsites
A microsite is a website that companies use to launch new products, promote their events, host marketing campaigns, a content hub, a podcast, or for targeting a niche audience or keyword.
Microsites are a good way to generate targeted leads, target a specific market by geography, or create a website that stands out from the normal corporate brand that has a different look.
Usually, the microsite is placed on a separate domain (meaning the URL is different), or the microsite is put on a subdomain.
This can give the microsite a more focused experience that also gives companies an opportunity to do experiments they otherwise could not on their main website.
An excellent example of microsites is CEO XChange from Relayr and their physical "executive forum on the digital transformation of industry.
Here "business leaders can meet and discuss the enabling of a digital revolution across the industrial manufacturing world."
Another example is Flutura's AI in Oil & Gas content hub. This microsite is placed on a subdomain, but it has a different look and feels from the main website.
3.5 Virtual academies
Content is the key to generating leads and opportunities, but whitepapers and ebooks just don't cut it anymore.
A content offer in PDF format takes a lot of time to create, they are hard to edit, and they offer no interactivity. They're just overused and less effective compared to what they used to be.
To stand out, some of the companies we looked at have invested a lot of time and money into creating their own online academies to generate leads and delight their customers. ¨
One such example is Armis University.
While this example is made primarily for existing customers, it could also work as a way to generate leads and educate prospective buyers in a way that buyers will find highly valuable.
Another great example is PTC University, which offers virtual classes and webinars.
Here you can sign up for a subscription to get access to online courses and certifications.
Not only can this be a great way to acquire new customers, but also delight the ones you already have in a more scalable way than say a 1-to-1 workshop or course.
3.6 Physical events
At the time of writing this article, companies are not doing many physical events.
While companies are moving to virtual events, there are still valuable learnings we found from analyzing our list of IoT companies.
One of the most creative ways we found was Relayr's Roadshow 2020.
Instead of having attendees traveling to an event, Relayr brings the event to the attendees by driving a truck around Germany and France.
Here they arrange C-level roundtable discussions, 1:1 consultations, networking, and keynote presentations.
In general, physical events are also great opportunities for companies to create video content out of the keynotes, do customer interviews, make case studies, or podcast episodes.
In other words, an event can give you content for months to come.
3.7 Video marketing
84,2% of the companies are doing some form of video marketing.
Either they have animated explainer videos that explain their product in a simple way, video case studies, webinars, or product videos.
One of the major mistakes we see is that companies are gating too much of their content, either behind a native form in the video hosting software, or behind a form on a landing page.
Remember that video is more suited for brand and awareness building, and you should optimize for content consumption and not lead generation when making videos.
Another major mistake is using YouTube to host videos on the website.
While YouTube can be OK to use for longer videos such as webinars (because some tools charge for bandwidth), a better choice would be to use players such as Wistia, Vidyard, or Vimeo.
This is because these players give you full control over the look and feel of the video, and the videos will remain ad-free.
On top of that, you can integrate these tools with marketing automation platforms such as Marketo or HubSpot so you get insight into what each of your contacts is watching.
Companies such as Armis and Arundo have also created their own video hubs that host their videos and webinars.
This essentially gives companies their own video channels similar to a YouTube channel that is branded and ad-free to make sure that your audience keeps watching.
If you want a hub for your videos, you can use solutions such as Vidyard to create one.
3.8 Interactive tools
Smart IoT companies need to make it easy to buy.
You achieve this by providing the right information the buyer needs at the right time.
Gartner calls this "buyer enablement", and is a way to give buyers prescriptive advice and practical support throughout the buyer's journey, making it easier to navigate and complete.
According to Gartner, buyer enablement content can take many forms:
Calculators that provides a simple, structured way to analyze data
Diagnostic tools that provide customers with a useful framework for assessing performance or identifying their options
Recommender tools that provide a clear, prioritized set of options in a particular purchase task based on customer inputs
Benchmark tools that provide customers with hard-to-find data for peer comparison
These interactive tools help buyers get personalized information that is tied to the outcome they want to achieve.
Some great examples are the ROI calculators from MachineMetrics and Samsara, a production waste calculator,
3.9 Newsletters
A newsletter can be a great way to distribute content, give your audience concise information they can consume quickly, and keep your company top of mind over a longer period of time.
However, you can't only focus on capturing emails, you need to create something worth subscribing to.
If you are going to have a newsletter, you need to commit to it by sending it at the same time every week or month over a long period of time.
While 63.2% of the companies we analyzed actively try to get visitors to subscribe to a newsletter, they don't stand out from every other newsletter out there.
Many of them also place their subscription form at the bottom of their blog or in the footer, making it pretty much invisible to most readers.
First, think about the naming of your newsletter.
Industrial IoT company Arundo calls their newsletter "The Journey - Your guide to navigating IIoT".
They position the newsletter as a way to receive "insights on how to apply machine learning, advanced analytics and IIoT technologies in industrial operations".
This calls out their target audience and gives them an incentive to subscribe.
Second, most newsletters we subscribed to were overly promotional and product-focused. Some companies also try to send ebooks to segmented audiences into different areas of interest.
Avoid making your newsletter a pure sales channel. Instead, optimize for content consumption and brand building. Otherwise, your audience will over time lose interest and unsubscribe.
3.10 Partnership programs
One key lesson IoT companies can take from some of the top SaaS companies such as HubSpot or Salesforce is their partnership programs and how effective these are at driving revenue.
For example, when HubSpot launched its own partnership program in 2014, it generated 42 percent of the company's customers and 33 percent of its revenue.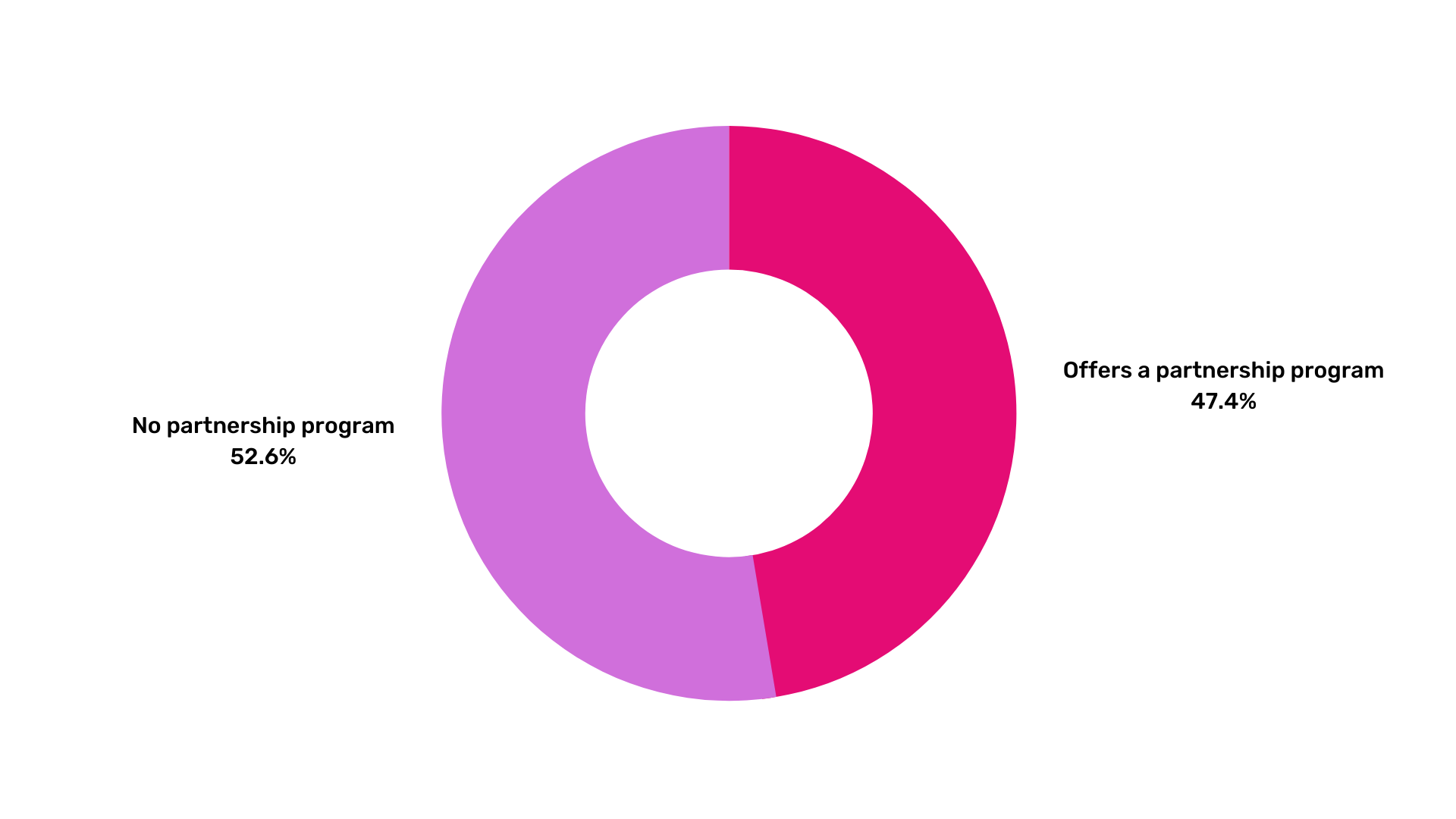 Companies such as PTC and Armis offer different types of partnerships such as becoming a referral partner, strategic partner, managed service provider, integrations partner, etc.
By sharing customer bases, both parties can amplify their growth rate, and lets your company get access to networks of customers that would otherwise be hard to get to.
However, a partnership program is a huge investment.
Usually, you need to offer co-marketing support, sales training, technical support and documentation, and point-based software solutions for your partners.
While this strategy is not easy, it can help you grow without hiring more salespeople, and accelerate your growth faster than most of the strategies discussed in this article.
Predictions for the future
Ungating content
Most of the companies we analyzed are using the same lead generation playbook that has been popularized by companies such as HubSpot, Marketo, and Salesforce.
This includes creating gated content on a landing page. This is usually followed by a series of lead nurturing emails and a sales development representative (SDR) calling those leads.
Buyers have gotten so accustomed (and tired of) to this approach that they leave fake contact information when submitting a form.
Buyers also don't appreciate being followed up by a salesperson when all they want is to consume the content.
This means that companies are wasting a lot of money on ads that generate leads that will never close, and they create content that is never consumed because of low conversion rates or fake contact information.
Our recommendation is to instead focus on ungating more of your content and optimize for content consumption.
That means that you let people access your articles, videos, and guides without having to fill out a form. The focus should be on promoting the content to your audience and have them consume it.
Death to the MQL
Marketers have historically been measured on KPIs such as marketing qualified leads (MQLs) or website traffic. We suggest that marketers' KPIs should be tied to revenue instead.
This means that marketers should focus on the number of opportunities generated from inbound channels and sales qualified leads that convert on a conversion such as a demo request.
You improve what you measure, and while changing KPIs might lead to fewer ebook downloads or website traffic, it will lead to more qualified leads and more revenue for your company.
Brand will drive demand
Many view brand and demand as two separate goals.
Brand marketers focus on building awareness and long-term relationships, while demand marketers focus on conversions, advertising, and sales. The reality is that you need both to win.
I have already touched on the problem with gating content.
The issue is that content offers, in general, have a low conversion rate, few people consume the content after converting, and the leads lack any buying intent.
That means that companies are paying for hundreds or thousands of leads that will never close.
You should reconsider this approach, and start creating content that will give your company attention and engagement instead.
Create ungated content such as podcasts, interviews, on-demand webinars, and case studies that are easily consumed and build brand awareness.
This will over time lead to more people starting to consider your product.
While you might get a smaller volume of leads, the leads you do get will be more qualified sales opportunities that convert to actual revenue in a shorter time.
In our opinion, gating content will decrease content consumption and brand awareness, making the sales process collapse.
Essentially, you need to provide valuable content over time, without the intent to sell your audience anything.
Moving from fragmented tools to a single platform
Companies, in general, are using a lot of tools to manage their marketing, sales, and customer success departments.
However, the trend is that companies are moving away from using a fragmented suite of tools and moving to single platforms such as HubSpot that can offer all the tools they need under one login.
Ideally, you will have your CRM, marketing tools, customer service tools, and your CMS on one platform, then integrate third-party applications to this platform.
This will lead to a better customer experience, and your company will get the benefit of getting a more holistic view of the customer.
Methodology
Nettly gathered the data for this article by using Builtwith to uncover what technologies are being used on each company's website.
We also did a qualitative analysis of each company by going through their website to give you an overview of the tactics and strategies they are using to grow their businesses.