You might be familiar with legacy CRM systems such as Salesforce and Microsoft CRM. While powerful and feature-rich platforms, companies are finding them too complicated and not very user friendly. Your salespeople want a simple CRM system that helps them manage leads and deals easily without having to do a lot of manual and repetitive tasks, which is why you should consider HubSpot.
While there are many alternative CRM systems to Salesforce and Microsoft such as Pipedrive, Zoho, or Copper, they are not tightly integrated with some of the top marketing automation platforms, and you risk ending up with too many separate systems and a siloed marketing, sales and customer success department.
HubSpot has all the features you would expect from a modern CRM system such as a reporting dashboard, company insights, deal tracking, pipeline management, email tracking, meeting scheduling link, and live chat (all of which are free). However, when moving to HubSpot Sales Hub Enterprise, you are able to push the boundaries and build value in new ways without the pain of working in one of the legacy CRM systems.
Your customer acquisition strategy must be just as innovative as your technology, but complexity can kill your sales. This is why we recommend using HubSpot CRM and Sales Enterprise for innovative industrial companies that want to grow faster. In this article, I will give you 14 reasons for why you should choose HubSpot Sales Enterprise for your sales department.
1) A deeply powerful but simple CRM system
With a simple and intuitive interface, it is easy for your salespeople to manage contacts, companies, and deals in the HubSpot CRM. Unlike most enterprise CRM systems, the HubSpot CRM is not bloated with unnecessary features. The UI is beautifully designed, making it look more like a consumer product than your typical enterprise CRM:
What makes the HubSpot CRM stand out from other CRM systems is that it is marketing powered. Most companies are sending out generic content and emails to all of their contacts that do not align with the buyer's journey. This results in buyers putting up their guard and ignoring most of the information they receive. With the HubSpot CRM, you get insights into all the actions and behaviors for each contact:
Smart companies can use this insight for segmentation, behavioral events, and personalization to start treating their audience as real people and not just as anonymous contacts in a database. This means you can pull data from the CRM, then serve the right content or ads to the right person at the right time instead of treating your whole database the same way.
2) Custom objects for storing any company data
According to Remington Begg at Impulse Creative, "custom objects in HubSpot are a record type in your CRM, Sales, or Marketing instance (enterprise customers). Custom Objects let you move beyond HubSpot's standard objects to extend the way you use the tool and customize it as your business operating system".
Custom objects are containers of your business information. Essentially, you can now store any data you want in HubSpot based on your business needs, then run reports, trigger workflows, or personalized content based on the custom object data.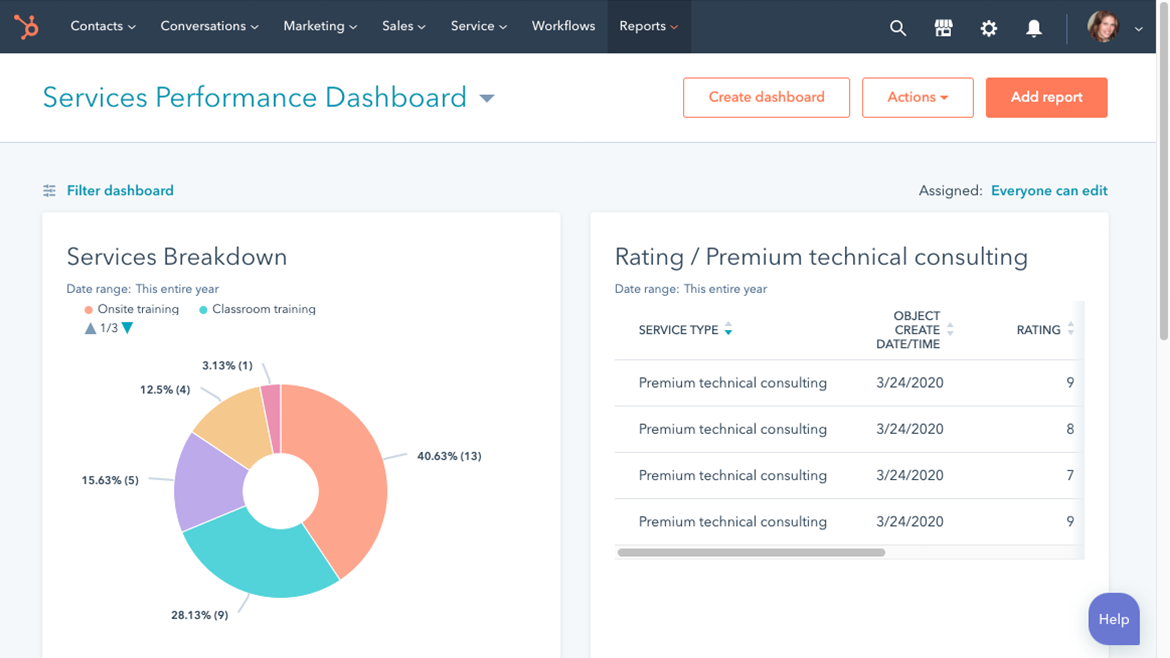 The way custom objects work, is that in addition to the standard objects (Contacts, Companies, Deals, Products and Tickets), you can add your own objects such as Subscriptions, Locations, Shipments, Memberships, and so much more. Each object has its own properties and can then be associated with one or multiple other objects in the HubSpot CRM.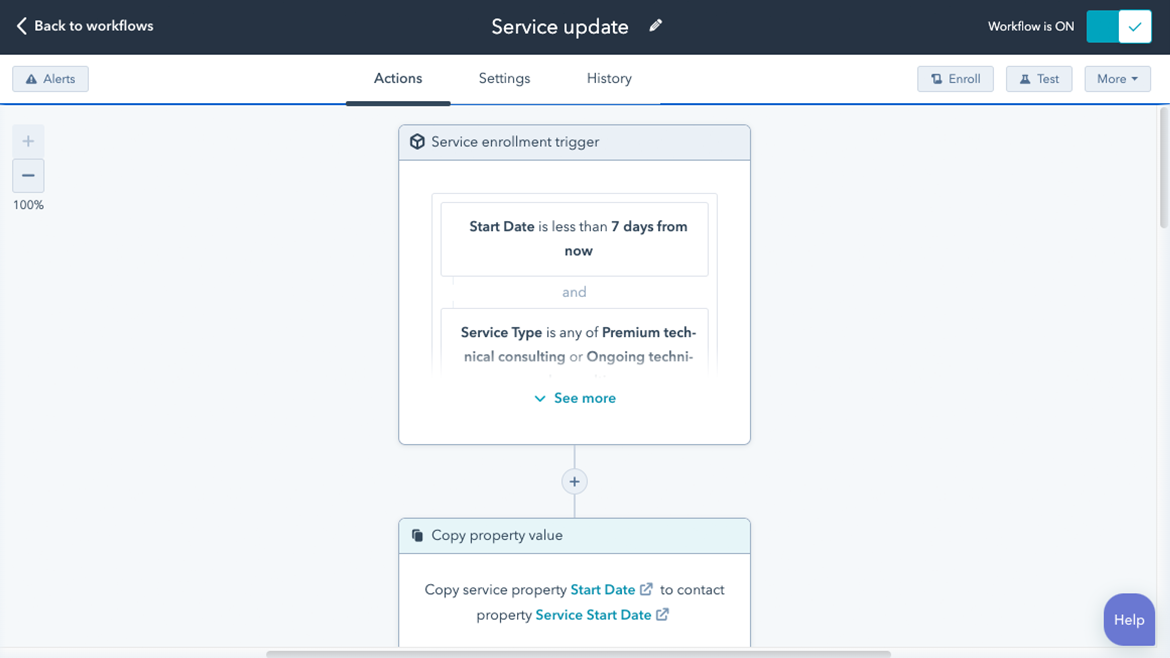 Custom objects make HubSpot into a real Enterprise CRM that now competes with Salesforce or Microsoft CRM. By using any of the Enterprise licenses in HubSpot (Marketing, Sales, or Service), you will get access to custom objects so that you can run many of the business processes you have in your company today from within HubSpot.
3) Sales engagement and automation tools
Sales engagement tools such as email templates, sequences, task management, canned snippets, documents, and 1:1 video creation are built into the HubSpot CRM, making it easier than ever to connect with more high-quality prospects in less time.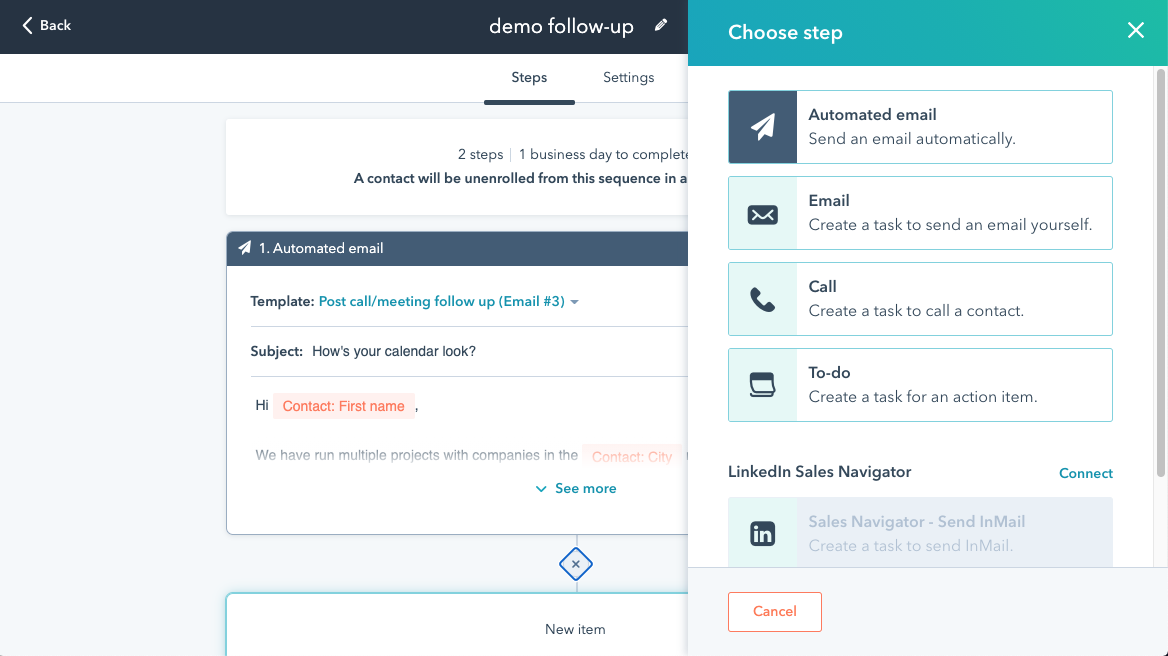 Sales rep productivity should be a high priority important for your company. With the new command center, your salespeople can get a high-level overview of all their tasks at the start of the day, making sure nothing slips through the cracks. Here you can filter, group, and complete tasks faster than before, plan your day, and get an overview of all the activity and communication between rep and buyer.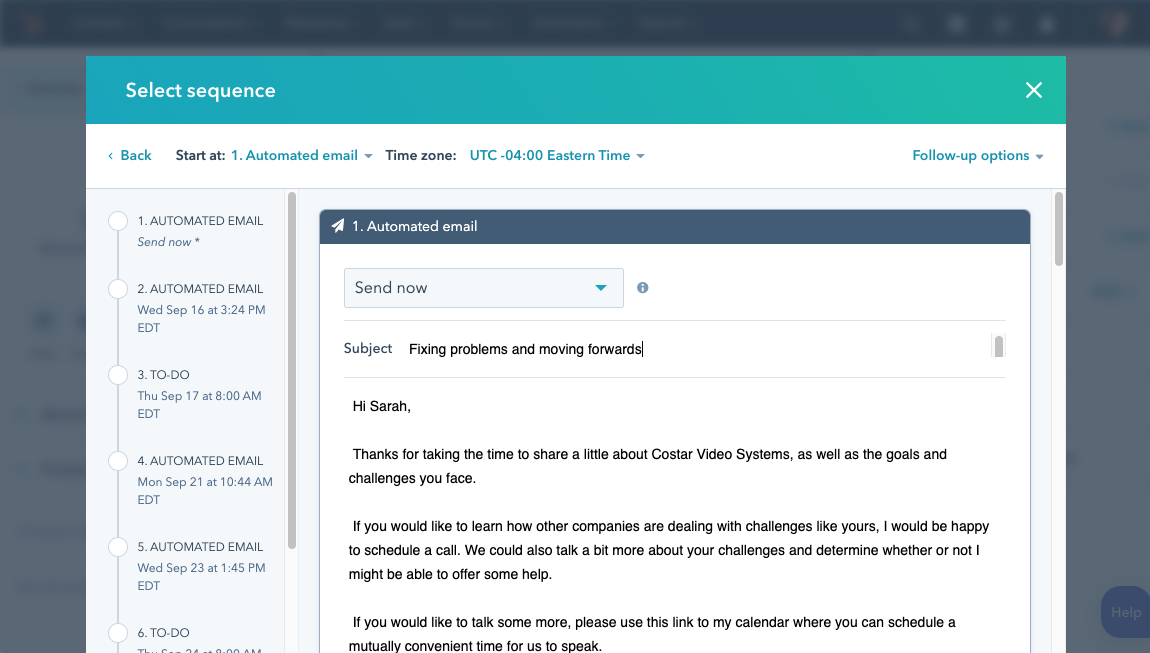 4) A product library inside the HubSpot CRM
The HubSpot CRM lets you build a product library with custom properties, giving you the opportunity to track the products or services your company offers. This helps you to manage important product information such as price and SKU.

You can also associate a product with a deal, tying the product to deals, quotes, and revenue. Instead of just seeing a simple amount on a deal record, you can easily track what product or service you sold to each customer, and identify if it is recurring or fixed. With the correct integrations, you can also synchronize the products in your ecommerce store with the deal stages in HubSpot.
5) Send quotes and proposals directly from the CRM
Sending proposals and quotes can take a lot of time away from actual selling. In the HubSpot CRM, you can send quotes and proposals directly from the CRM, and get it signed with eSignatures. This helps your salespeople reduce friction and drastically reduce the length of the sales cycle.
6) Accounting API and integrations
At INBOUND 2020, HubSpot also announced several the new accounting API and several integrations with some of the top accounting solutions such as Netsuite, Quickbooks, and Xero. These extensions allow HubSpot users to configure, price, and quote (CPQ) inside the HubSpot CRM. If you are a global company, you can also synchronise tax codes to products and multiple currencies.
The accounting extension API gives your company the opportunity to create an invoice directly within HubSpot, then send this data such as product information, line-items, description, unit price, and discounting to your accounting system.
This also allows a salesperson to deliver error-free quotes, manage different combinations of products and services, control discounts, and automate approvals, meaning less time from quote to cash for your company.
7) Advanced permissions
Advanced permissions make it easy to grant or restrict access to certain information or tools in HubSpot based on the permissions for each individual or team. You can add multiple sales pipelines for different countries or business units, then automatically rotate leads based on availability and ownership to make sure that prospective buyers are followed up quickly by the right person from your organisation.
Permissions is a way for enterprise organizations to avoid complexity by "locking away" features that some users do not need or want to see. As HubSpot lets you set permissions down to field level, you can restrict access to certain views so that you simplify everyone's workflow. This also means that each role can get customized dashboards just for them, where for example a sales manager can see the performance of every salesperson, but each individual salesperson will only see their activity, tasks, and deals.
8) Sales forecasting and reporting
The forecasting tool in HubSpot helps you spend less time reconciling spreadsheets and more time strategizing, coaching, and selling. With all your sales data integrated inside the HubSpot CRM, you'll have the visibility and insight you need to forecast with confidence.
HubSpot also offers powerful sales analytics tools that give you insight into the health of your pipeline, allowing you to improve outcomes over time. There are over 20 out-of-the-box reports in HubSpot, but with the Enterprise (or Professional) license, you can create multiple dashboards and custom reports that help you to explore powerful insights, including deal change history, sales activities, and sales outcomes.
9) Sales playbooks
The sales playbook feature helps you to streamlines and standardize your sales process across multiple sales teams, business units, and countries. With this feature, you can build your sales scripts, positioning guides, training material right into the HubSpot CRM.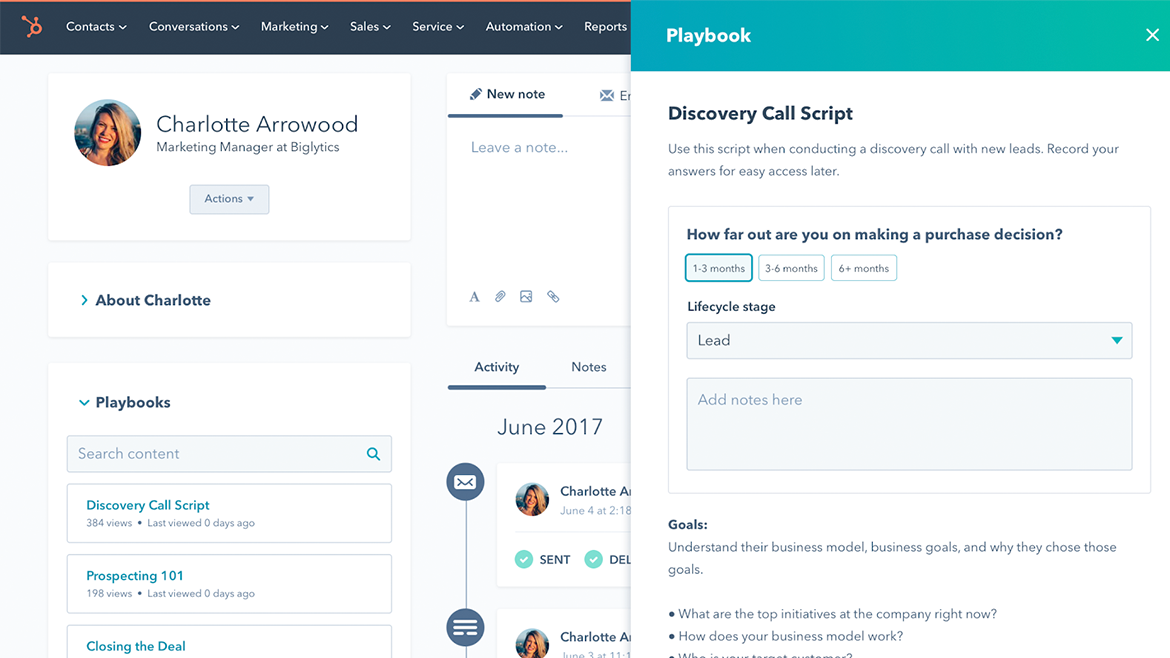 Sales enablement content such as pricing guidelines, product sheets, or case studies can also be built into the CRM and made easily accessible when a rep needs help closing the deal. You can also create sales battle cards in situations when a prospect is evaluating a competitor and need to quickly access some quick facts about your competitors strengths and weaknesses, and responses to how your product compares.
10) Set goals
As a HubSpot Sales Enterprise user, your sales teams can be assigned goals for calls logged, deals created, meetings booked, and most importantly, closed revenue. As a manager, you can create user-specific quotes for your sales team, then assign these goals to each team member, team, or at a pipeline level.
11) Call transcription
HubSpot has a built-in call transcription feature that allows your sales team to call a contact directly from the HubSpot CRM. After registering each salesperson's phone number, they can log call transcriptions on each individual contact timeline. After the call has ended, you will receive a transcript of the conversation that can be analyzed.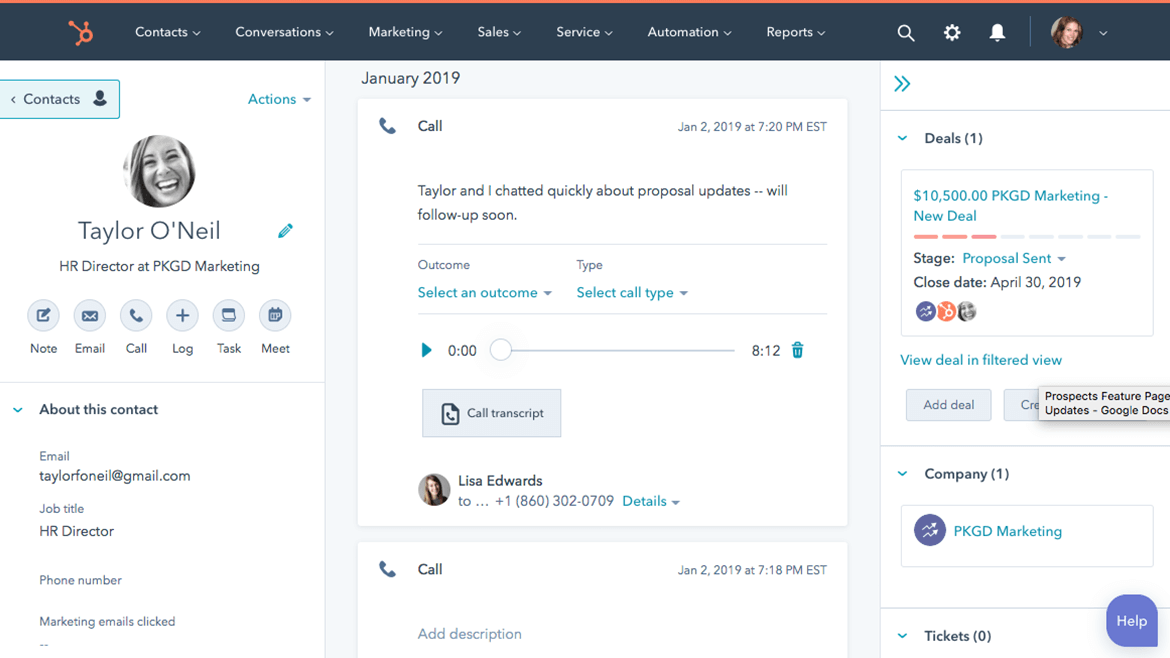 12) Track recurring revenue
As more industry 4.0 companies are transitioning from products and one-off payments to services and recurring revenue, the recurring revenue tracking feature allows your company to analyze and track the projected value of a deal amount over time with the revenue analytics report. This report allows users to track the amount of revenue they are winning or losing in a specific time period and gives you more insights into how renewals, upgrades, and downgrades affect your revenue.

13) Sales intelligence
Data entry is a big time waster for most salespeople. With HubSpot's sales AI features, HubSpot will scan emails for names, email addresses, titles, or phone numbers and pull the information into the contact timeline. This feature alone can save an estimated 1hour and 50 minutes per salesperson per week, allowing for more time focused on selling.
14) 500+ integrations
HubSpot offers most of the tools you need for attracting, closing, and retaining customers, but you can also extend the HubSpot with over 500 different integrations. A HubSpot integration will send data to the CRM and enrich the contact or company timeline with external data. In the app marketplace, you will find integrations such as Slack, PandaDoc, HelloSign, Hotjar, Zoom, Stripe, Salesforce and many more. If you don't find the integrations you need, you can also use HubSpot's APIs to build your own integrations and get more value out of HubSpot.
Conclusion
HubSpot Sales Enterprise offers an unique combination of powerfult features and ease of use that helps you scale your sales department, streamline the sales process, and grow your company faster. If you want to get started with the HubSpot CRM for free, you can follow this link: