Looking for an all-in-one marketing software that helps you to get found and generate more sales opportunities? Then you should consider using HubSpot Marketing Enterprise.
You will learn more about:
Business automation tools
Lists and segmentation
Blogging platform
Easy to edit, but powerful landing pages
It is easy to edit and manage multiple forms
Advanced email marketing
Built-in video hosting tools
Brand domains to manage multiple brands
Non-marketing contacts
Built-in account-based marketing tools
Permission control and partitioning
Reporting and multi-touch revenue attribution
Custom objects to personalize your marketing
Salesforce CRM integration
500+ integrations and API
Automation tools
Marketing automation is viewed by many as using software to automate simple marketing activities such as scoring leads and send lead nurturing emails.
This is a very narrow view of what automation can do for your company and one that excludes many opportunities for making your business run more efficiently.
However, marketing's role is not only to acquire more opportunities for sales but to market to contacts throughout their whole lifecycle.
As the hubs in HubSpot are built around a shared database, you can automate a wide range of business processes across multiple functions in your company such as:
Dynamically change the lead status or lifecycle stage of a contact
Automatically notify sales when a hot lead is showing intent to buy
Segment contacts and accounts into different tiers based on revenue
Create targeted campaigns towards customers who are close to a renewal date
Onboard new users with information on how to use the product
Identify users who have low engagement with your product
Segmenting contacts into lists based on industry, revenue, and more
Create campaigns specifically to engage and target partners or investors
Automate internal communications between departments
Lists and segmentation
The list tool in HubSpot allows you to create a list of contacts or companies based on properties that makes it easy to make your marketing more relevant and engaging.
Enterprise companies often have old databases with a lot of contacts that are not segmented properly with the help of lists or views.
By segmenting these contacts and companies based on property values, you can start creating more targeted and effective marketing campaigns in HubSpot.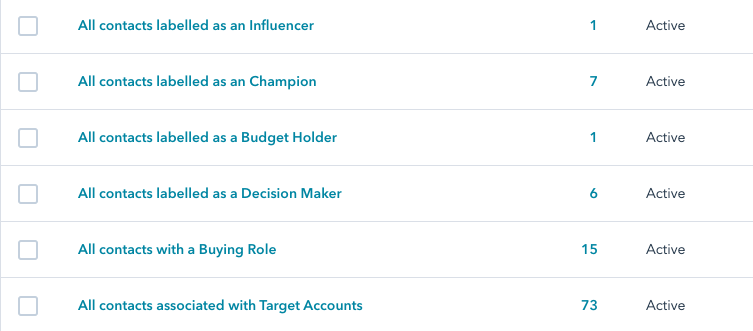 If you are migrating from another CRM and you are importing a spreadsheet with 500 customers and 1000 leads, you can tag these as Customers and Leads in your import. HubSpot will then automatically segment the contacts into a Customer and Lead list.
Other use cases are creating a list of everyone who subscribes to your company blog, creating account-based marketing lists for targeted advertising and email campaigns, or segmenting customers with a high NPS score into a single list.
Blogging platform
HubSpot's blogging software is ideal for Enterprise marketing teams that need an integrated blog platform that makes it easy to publish content without restrictions and lack of usability in most legacy content management systems.
The on-page SEO tools in HubSpot help enterprise marketing teams to drive more traffic from search by giving recommendations for how to write your page titles, meta descriptions, or if you are missing links to other relevant pieces of content.
HubSpot has built-in reports that give you a drill-down for each post with the number of views, which channels are driving traffic, engagement metrics, and insights into which contacts have read specific posts on your website:

If you are not already using the HubSpot CMS, you can use the HubSpot blog on a subdomain (blog.website.com). With some simple design and development work, you can make your HubSpot blog fit seamlessly into the rest of your website's layout.
If you are managing multiple blogs for different audiences or countries, HubSpot also makes it easy to clone and implement a new blog in a new language as well so that you can serve a global audience.
Powerful landing page builder
Landing pages are important tools for converting visitors into leads, generate requests for a demo or get more registrations for your webinar.
With HubSpot, marketing teams can design and launch beautiful landing pages without help from developers or IT by using the drag and drop editor.
Enterprise marketing teams have some specific pain points that most landing page builders do not solve. One of the biggest pain points is difficulty in scaling up the production of great landing pages.
Enterprise companies that are doing many campaigns at the same time need to follow strict brand guidelines, build AMP-compliant landing pages, personalize each page, and have the ability to run A/B tests within the same platform.
Enterprise landing pages also need to meet strict security standards, be easy to review for internal and external stakeholders and be able to capture and route leads to a sales department after someone fills out a form on the page.
HubSpot landing pages can also pull data from the CRM to personalize the experience for each individual contact based on location, source, device, lifecycle stage, etc.
One example of personalization is reducing the number of form fields on the landing page if certain fields are already stored in the CRM, or inserting the company name if you are running an account-based marketing campaign:
If your landing pages are not performing up to expectations, you can run up to five variations of each page and have HubSpot pick the winner.
This lets you test different elements such as headlines, images, forms, videos, and more to get the best possible results from your landing pages.
It is easy to edit and manage multiple forms
Building and deploying web forms on bigger websites can be a big pain for enterprise companies. Unfortunately, forms are often an afterthought on many websites that severely limits the results a company can produce from their website.
The form serves several critical purposes such as converting visitors into opportunities, getting webinar registrations, or receiving support requests from existing customers.
Forms also have to be GDPR compliant even if you are outside of the EU that lets you register a contact's consent to storing and processing their data:
Forms should also be easy to edit and embed for non-coders so that people with no development background can quickly create forms for a marketing campaign, then easily push the submission data to the CRM.
You should also be able to place the same form in multiple locations, but at the same time edit and update the form from one central place.
HubSpot Forms handle all this complexity and give enterprise marketing teams an easy to edit drag and drop form editor built into the HubSpot platform.
Drag and drop email marketing
Having a large, segmented, and engaged list of email subscribers can be one of the biggest and cheapest channels to drive revenue for companies.
Email is still one of the most effective channels to distribute new content, onboard new customers, promote your product, and retain existing customers.
HubSpot delivers over 1 billion emails for their customers every month and is known as a platform with a very high email deliverability rate and a good sender reputation.
HubSpot helps enterprises reach the inbox with features such as filtering out unengaged contacts, having a frequency cap on email sends, and segmentation features that allows you to only send emails to the right contacts.
With the drag and drop editor, marketers can quickly create professional-looking and personalized emails that work on any device without designers or developers.
There are also pre-made templates available, and you can create your own from scratch and customize each email with your own branding, CTAs, images, etc.
HubSpot also comes with built-in A/B testing tools for an email to help you maximize the results you can get out of your email campaigns.
Use A/B tests to uncover the most effective subject lines and CTAs for driving traffic and conversions.
The email analytics offers deep insight into who is most engaged with your emails, what the most popular links are, and gives you the number of opens and clicks:
Built-in video hosting tools
Video is becoming one of the most important ways to grow a business. This is why HubSpot offers video hosting and analytics features through HubSpot Video:
HubSpot Video gives Enterprise and Professional users host videos, optimize them for SEO, add forms and CTAs, or embed them on their website or on social media.
The engagement from each contact can also be viewed on the contact timeline, then push this engagement data to segment contacts into lists, score leads, and make better decisions around what content to create.
Brand domains to manage multiple websites
As your company grows, you might start to hold an annual event, create microsites, or create a separate product that all require their own website and online presence.
As a HubSpot Marketing Enterprise user, you can add each brand to the same HubSpot portal and manage all your online assets (website, blog, etc.) from one place.
Brand domains are a great fit when you want to host two distinct domains from one platform, if you have separate sales and marketing teams working on different brands, or if you want to segment your reporting based on domain.
Store non-marketing contacts
There are many reasons why you want to store contacts in your CRM even if you do not intend to market to them. You might use your CRM to store information about your partners, distributors, employees, or potential hires.
HubSpot's pricing model has previously been based on the number of contacts stored in the CRM system. For every 1000 extra contacts, the price would increase.
This meant that HubSpot would become very expensive for companies that grew quickly, and they had to spend a lot of time managing their contacts to reduce costs.
Now you can keep storing the contacts you do not want to market to, but only pay for the contacts you are marketing to with email or advertising.
HubSpot now lets you store up to 1 million non-marketing contacts free of charge so that you do not get punished for the success of your sales and marketing team.
Account-based marketing tools
HubSpot has launched its own ABM features to help sales and marketing teams run a successful account-based marketing strategy without any external tool:
By uploading your target accounts to HubSpot, you can monitor the effectiveness of your message at a company and individual level in your target accounts dashboard:

HubSpot also makes it easier for sales and marketing teams to collaborate with a shared overview of each account that provides access to common KPIs and insights:
The workflow tool helps you automate the process of segmenting your target accounts when you either import data or someone converts on your website:
You can also segment each contact into different buying roles such as Decision-maker, Champion, or Blocker that helps HubSpot automatically create dynamic lists in your CRM you can use for account-based advertising.
Account-based advertising lists can be used for advertising on Facebook or LinkedIn to advertise to contacts and companies based on their lifecycle stage, account tier, or buying role, making your marketing more impactful and less wasteful.
Permission control and partitioning
As your marketing team grows, you need to make sure that you keep your HubSpot portal stays organized. In HubSpot, you can reduce clutter by using permissions and content partitioning to limit access to each feature to certain users.
Not all of the tools and dashboards are relevant for each user in your HubSpot portal. For bigger organizations, it makes sense to customize the experience for different roles to prevent unwanted changes to your HubSpot setup.
Permission control and partitioning help you give access only to the most relevant tools for each user. For example, you can create one experience for a sales manager that shows high-level pipeline and activity metrics, but then each individual salesperson will only see their deals, activity, and contacts.
In HubSpot, you can also create Teams for each function so that you avoid different marketing teams seeing each others content or accessing tools they are not supposed to. This helps you to create a hierarchy of users that only have the permissions they need, and you reduce the risks of error in your HubSpot portal.
Multi-touch revenue attribution
The main strength of the HubSpot platform is the shared database (CRM) between the four hubs (Marketing, Sales, Service, and CMS). This helps marketing teams better understand what channels and tactics are generating the most revenue.
HubSpot's multi-touch revenue attribution helps to sense all the data and get insights into what content, channels, and touchpoints to help close more deals.
Custom objects
In addition to the standard objects in HubSpot (contacts etc.), you can create custom objects tailored to your business needs. Enterprise users can store and sort any relevant data with different levels and associations in one simple interface.
Let's say you are offering an IoT product on a subscription model. You have different types of levels of subscription-based on the bandwidth the customer needs.
In this case, you could create a Subscription custom object, then create custom properties such as start and renewal date, and monthly recurring revenue.
Custom objects will allow you to create workflows and reports based on this data, helping you to report on the average CLV, churn rate, or renewal rate etc.
Salesforce integration
While we believe that the HubSpot Sales Enterprise is simpler and just as powerful as Salesforce, many companies want to integrate HubSpot Marketing with Salesforce.
You can connect HubSpot to Salesforce and set up bi-directional sync between the two systems without any technical work required. This will make it possible to send intelligence about your leads from HubSpot to Salesforce.
500+ powerful integrations
HubSpot is a full-stack platform for marketing, sales, and customer service. However, most enterprise marketing teams are using multiple other tools to drive growth.
The HubSpot app ecosystem lets you find and integrate your favorite software with HubSpot without developing your own integrations or middleware (Zapier etc.).
There are over 500 different integrations available for HubSpot such as Zoom, Leadfeeder, Vidyard, Drift, Zendesk, Slack, Jira, Strope. Hotjar and more.
One of the big benefits of using HubSpot is that all your data becomes unified on the contact timeline. Data from other apps get shared across teams, and everyone has a single view of the customer.

Conclusion
HubSpot is an all-in-one growth platform that helps companies grow better by attracting visitors, engaging leads, and delighting customers. If you want to learn more about the other hubs in the HubSpot platform, you can read the following posts: