As your company grows, your customers will begin to expect more and more out of your website. This usually requires adding tools for security, SEO, lead conversion, site monitoring, and CRM integration.
Over time, your CMS can become very complex, hard to manage, and vulnerable to security breaches. This results in having to spend more time managing your website instead of creating a great experience for your customers.
Many content management systems are antiquated and require a combination of separate services such as hosting, plugins, monitoring apps, security, and SSL certificates, and require a developer to do very simple changes. Most businesses however want to focus on business growth, not on managing a website.
This is an article in a series of articles about why go HubSpot:
Part 2: HubSpot CMS: An easy-to-manage Content Management System built for the Enterprise (this article)
Part 3: Why Industry 4.0 Companies Should Choose HubSpot Marketing Enterprise (coming soon)
Part 4: Why Industry 4.0 Companies Should Choose HubSpot Service Enterprise (coming soon)
The HubSpot CMS is built for growing companies that do not want to be held back by website management. This is an all-in-one platform where you can create web pages, landing pages, and blog posts from one place. The HubSpot CMS is also built around the HubSpot CRM. This gives you the ability to create more personalized experiences based on the data in your CRM. In other words, the HubSpot CMS gives you all the tools you need under the same login.
Here is why the HubSpot CMS is the best choice for the Enterprise team.
HubSpot Themes
Maybe the biggest feature of the HubSpot CMS is Themes. HubSpot describes themes as a set of templates, modules, global content (for example the navigation bar or footer), and style settings that are used to create an entire website. Themes allow developers to work with coded files, use the technologies, tools, and workflows they prefer while giving marketers an easy drag-and-drop no-code editing experience that lets them customise layouts and optimise web pages.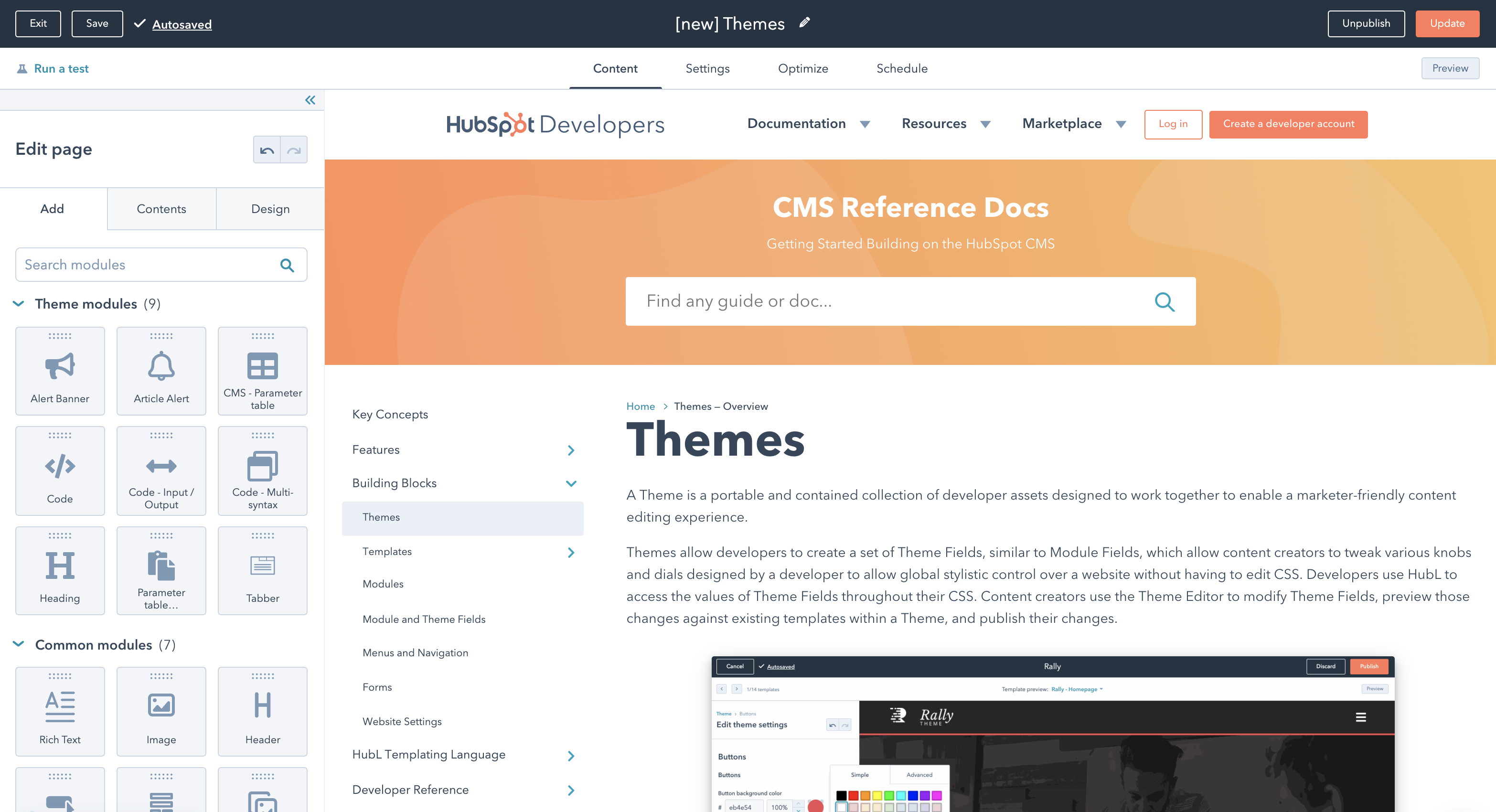 The HubSpot CMS is pushing the boundaries of how marketers, developers, and IT work together. With the HubSpot CMS, you can create and publish content, get found, capture leads, gain insights about your prospects and customers. Instead of spending time on managing a website, you can spend more time on creating and managing exceptional experiences for your prospects and customers.
You can create your own themes with the help of a designer or developer, but the CMS Hub includes several default themes that you can customise to your business, but you also have the opportunity to buy assets such as themes, landing page templates, email templates, and modules on the Asset Marketplace. This makes it possible to have a great performing website in days or weeks instead of months.
A CMS built on top of a CRM
Your website and CRM should work in conjunction. This is why the CMS Hub is built on top of a single unified database, the HubSpot CRM. All of the data you have on your contacts can be used to create better and more personalised experiences for each contact.
All of your contacts interact with your website, which is why you need to track each interaction and touchpoint each contact to be able to understand, analyse, and report on what is working. A CRM-CMS integration will give you insights into what channels and content are working, which will inform you on how to improve your overall customer acquisition strategy.
While most you can integrate most content management systems with CRMs and CMS through either a plugin or a simple code snippet, the HubSpot CRM and CMS are integrated out of the box and can be found under the same login.


Video hosting, form creation, and CTAs
Many companies I talk to complain that their website is not "engaging enough", "too static and outdated", and that it does not contribute to generating more business for their company. This is where videos, forms, and CTAs (call-to-action) in HubSpot turn a static website into a dynamic and revenue-generating asset that works for your company 24/7.
HubSpot Video lets you "harness the power of video across your marketing, sales, and service teams to provide actionable, personalised content to your leads and customers". HubSpot Video is powered by the native integration with Vidyard, and lets your company host videos that can easily be embedded into your website pages, blog posts, sales emails, or published to social media.
Managing forms on your website can often be a more complicated and time-consuming process than it needs to be. Many companies lose business because they are slow to respond to incoming leads or requests from customers. HubSpot Forms simplifies the creation and management of website forms by having a drag and drop experience. Forms can be dropped into a page as a module, helping you to route prospects or support requests quickly and automatically.
A third feature that makes a website more dynamic and engaging is call-to-actions. It is critical that you give visitors a clear next step by directing them to the most important pages or offers on your website. This is done by creating buttons or images that are linked to relevant content or conversion points such as a request for a demo form.
What makes CTAs in HubSpot different from other solutions is that you can dynamically change the text and link a button or a link based on where they are in their buying process. Where a highly engaged prospect might see a button to "Request a demo", a first-time visitor might be directed to a content pillar instead. Then you can A/B test, analyse, and optimise the performance of your CTAs to get more results of your existing traffic.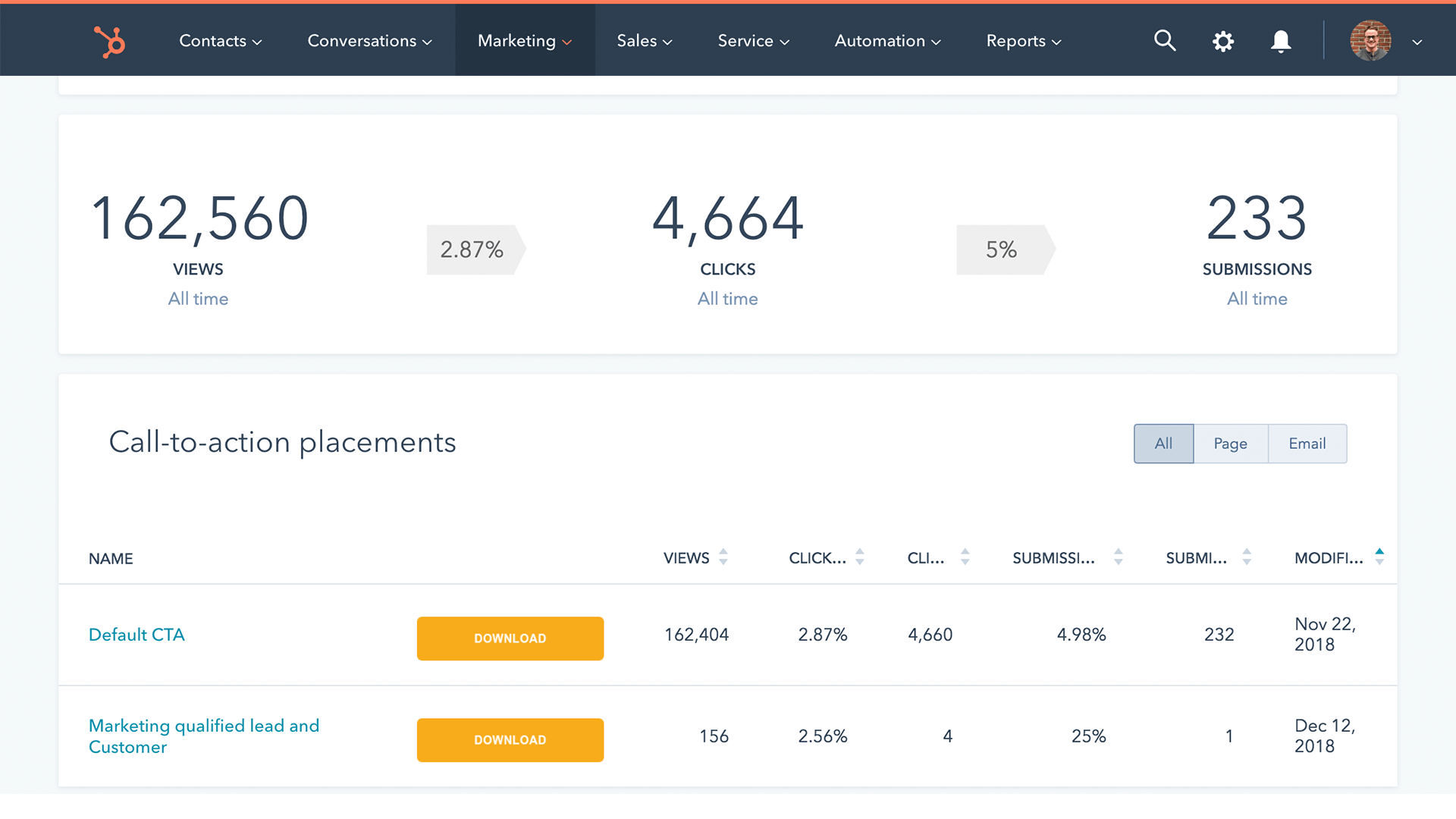 Multiple domains, languages, and locations
As your business grows, you might need to create distinct brands or separate online presences, meaning multiple websites with different domain names. In addition to a root domain (for example apple.com), HubSpot Marketing Enterprise gives you the ability to add a brand domain, which in this example could be itunes.com. This means you can use one HubSpot portal, but manage multiple domains to host content, create reports, and launch marketing campaigns on multiple different websites. When using the CMS Enterprise Hub, you get two brand domains included.
Multiple domains are a great fit if you want to manage content on two separate domains, or if you have multiple teams (let's say one product marketing team and one event marketing team), and when you need to be able to segment and report on only one domain at a time.
Please note that if you have two brands that live under the same root domain, you can host your content on subdomains or subdirectories without purchasing a brand domain. In this case, you could have company.com, blog.company.com, company.fr, and company.com/de without any additional cost.
It is easier to scale your marketing efforts across borders, brands, and any other dimension with features like multi-language content, multiple currencies, and location-based analytics. You can also easily segment your database, content, workflows, lists, subscriptions, and reporting across different business segments using teams.
Built-in SEO recommendations
Search engine optimiation (SEO) is one of the most complicated marketing disciplines. It is ever-changing, with Google updating its algorithm up to 500 times per year. For sophisticated companies with large websites, it can be incredibly difficult to manage their own SEO and choose where to focus for maximum impact.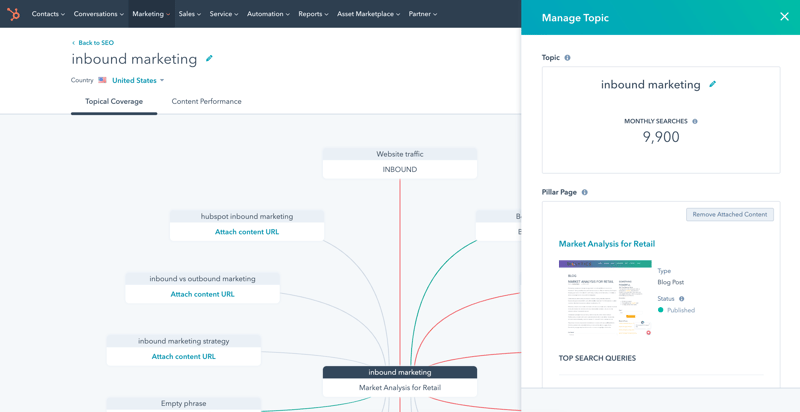 While HubSpot cannot replace tools such as Ahrefs or SEMrush completely, HubSpot provides a consolidated view of how your website is performing in organic search. HubSpot can be integrated with Google Search Console. This will pull relevant data into your portal, then give you recommendations on what items to fix on specific pages, then estimate which optimisations that will have the highest impact on your visibility.
Custom objects, serverless functions, and memberships
A huge feature that was announced at INBOUND 2020 was custom objects. In addition to Contacts, Companies, Deals, Products, and Tickets, you can now create custom objects tailored to your business needs. This puts HubSpot into the same category as Salesforce and Microsoft CRM, where Enterprise users can have the ability to store and sort any relevant data with different levels and associations in one simple interface.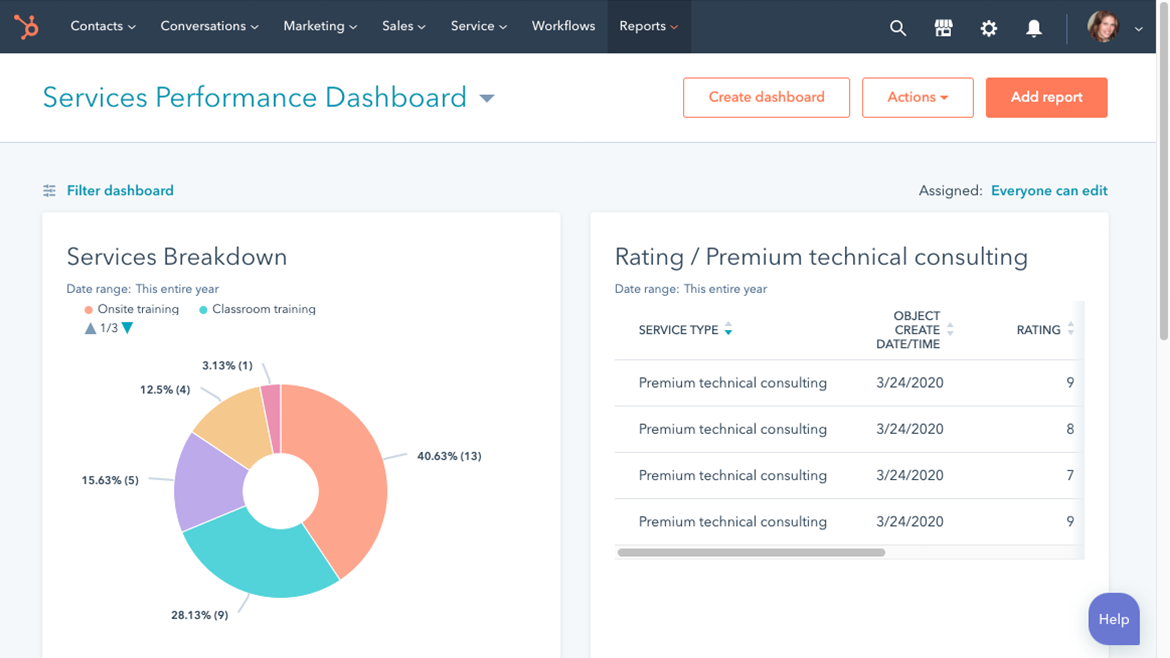 Let's say you are offering an IoT product on a subscription model. You have different types of levels of subscription based on the bandwidth the customer needs. In this case you could create a Subscription custom object, then create properties such as start and renewal date.
This will allow you to create workflows and reports based on this data, helping you to report on the average customer lifetime value, churn rate, or renewal rate. Custom object data can also be displayed on web pages or in emails so that you can present the most relevant information to your prospects or customers.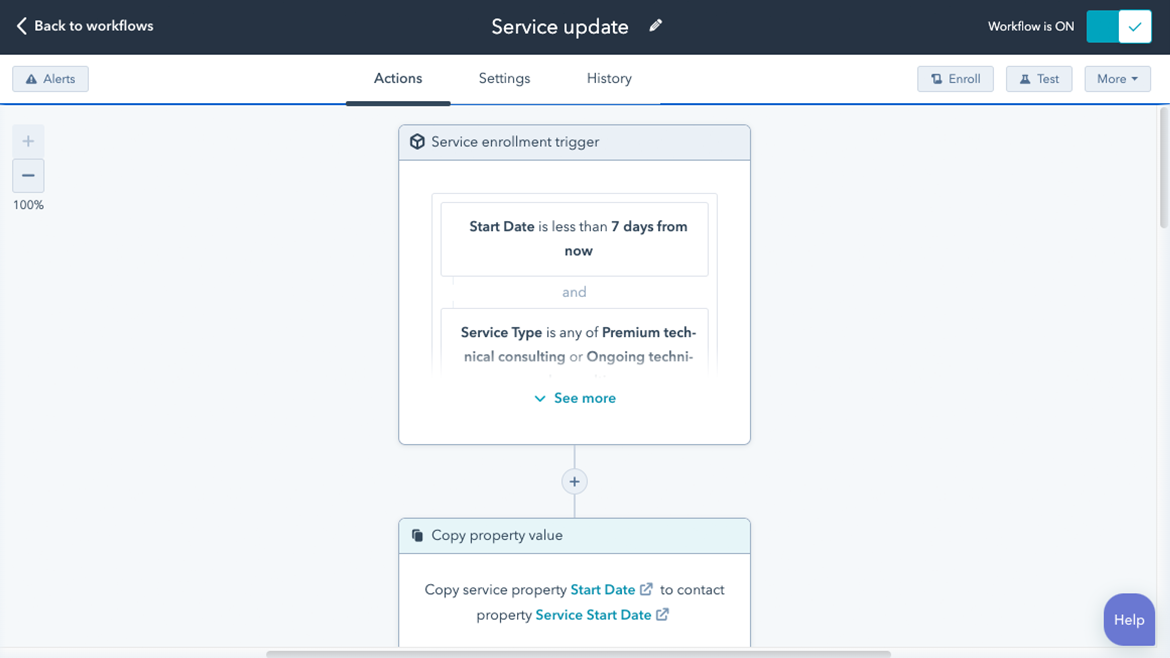 Another big enterprise feature in the CMS is serverless functions. Without going too much into the technicalities of serverless functions, it allows you to add interactive elements to your website such as event registrations, complex data calculators, display data from other applications, send data to other systems, or collect and store data in HubDB or the CRM without needing to configure an external server.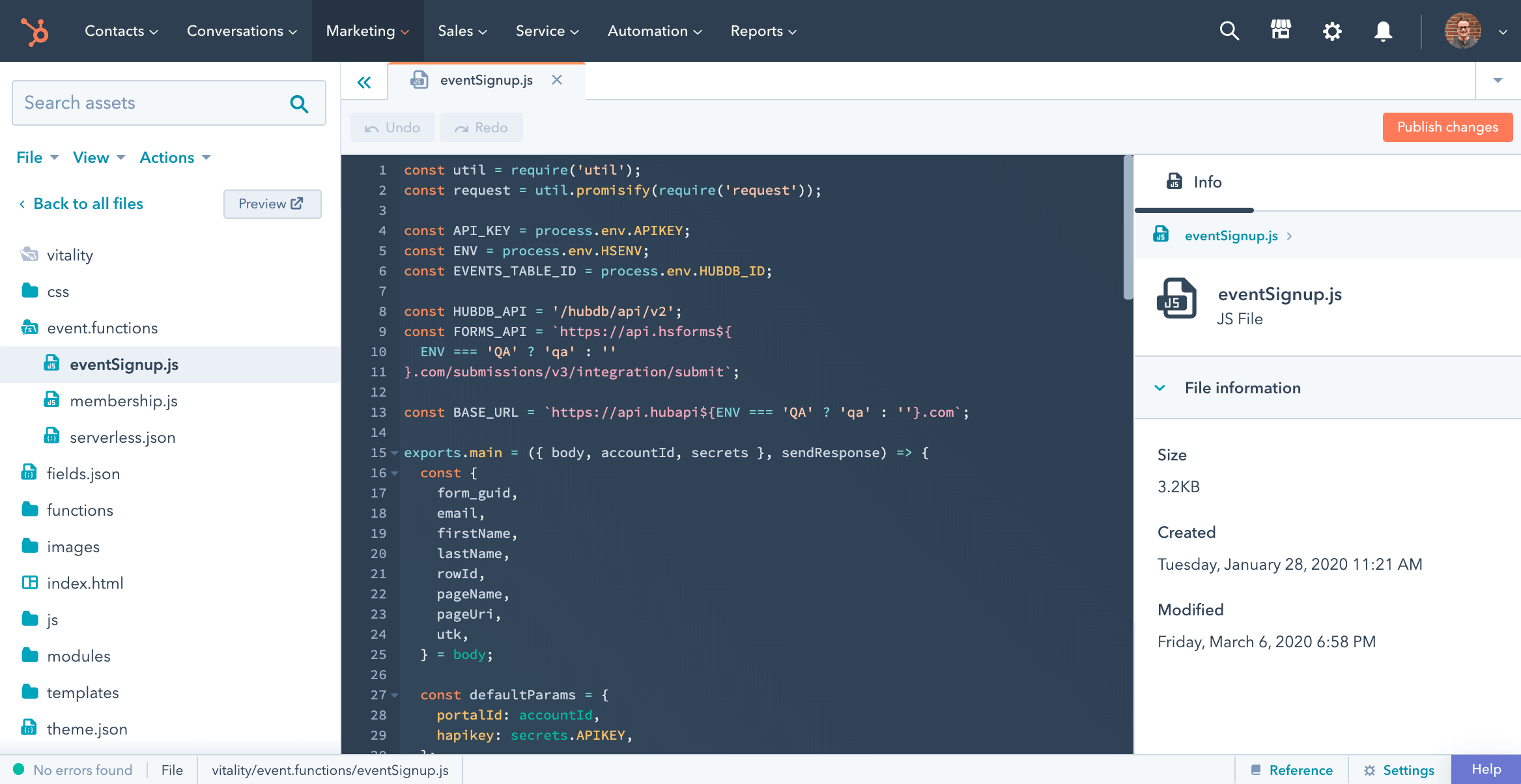 This means that developers can host executable code on HubSpot's cloud environment, making it easier to implement advanced features without spinning up an external server. This blurs the line between static web pages and web applications. An added advantage is that as your company and website grows, developers will spend less time managing their code as they no longer need to manage one, the complex and unified codebase that requires to be redeployed when updated.
Custom Conversational Bots
Prospects and customers expect to be able to reach you through live chat in addition to email or phone calls. However, most companies struggle with supporting one-to-one conversations. HubSpot solves this with its chat tool that will help you to create more personalised experiences for your audience, reduce friction for the buyer, and decrease the workload of your sales and customer success teams.
You can configure your chatflow to handle most incoming conversations, then either qualify a prospect, create a support ticket, add users to a list or workflow, or direct visitors to relevant content on your site. You can create and customise the chatflow yourself without coding. HubSpot also has several templates ready to go but allows you to remove or add questions, or add custom responses. The visual editor helps you adjust the messaging, tone, and name of the chatflow so that the bot matches your brand.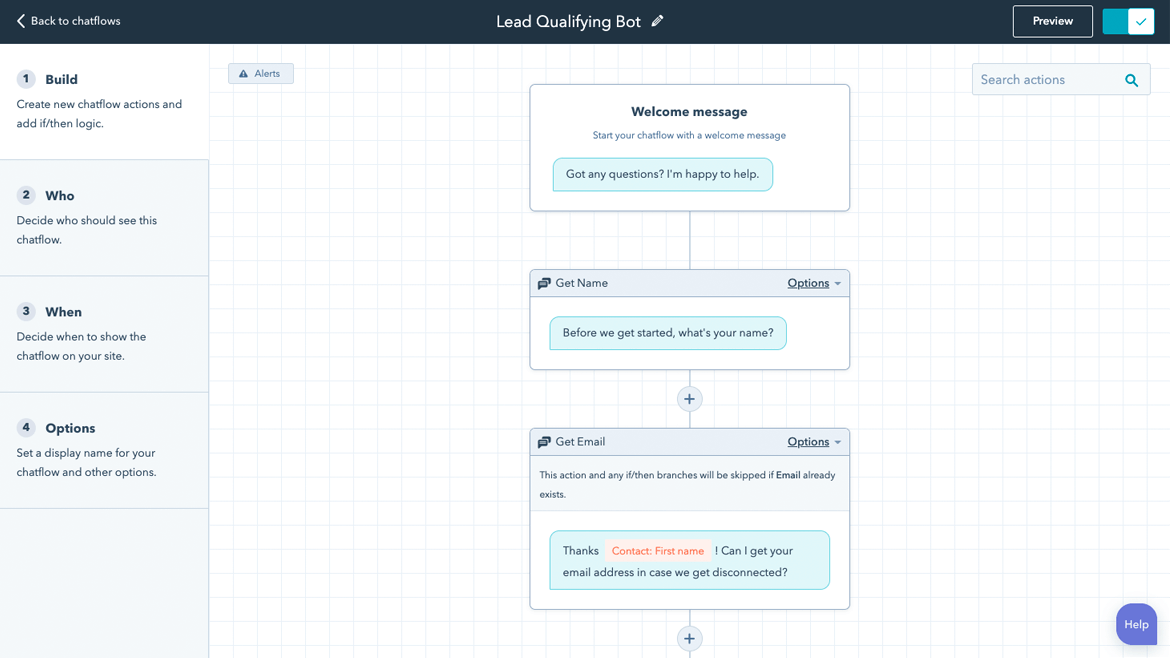 As with every app in HubSpot, the chatflow is seamlessly integrated with the CRM. This allows for more personalisation and customisation based on the data in the CRM. All of the information the visitor enters into the bot will be sent to the contact timeline, giving your sales, marketing, and customer success teams a more complete view of each contact.
Security features
For the IT department, the HubSpot CMS provides a cloud-based CMS that includes a global content delivery network, 99,99% uptime, cache optimisation, SSL-certificate, activity logging & partitioning, quick loading speeds, site performance monitoring, SSO, and 24/7 security monitoring and threat detection.
The number of cyber attacks are increasing each day, and you cannot risk having your website compromised. The CMS Hub removes a lot of the pain related to managing a website by providing built-in features such as a global CDN to handle large increases in traffic, enterprise-class web application firewall to detect attacks, SSL certificate, site performance monitoring, and also a 24/7 security team at HubSpot dedicated to monitor attacks, potential abuse or other anomalies.
Another big factor you need to consider when choosing a CMS is speed. If your website is not loading quickly on mobile or desktop devices, you risk lower rankings in Google, poor user experience, and losing out on potential new business. The CMS Hub is one of the fastest content management systems on the market and provides you the tools such as automatic image compression and optimization, minified javascript, automatically combining CSS files, code alerts for low-performing code (syntax errors, slow pages etc.), and page caching, ensuring that your website loads as fast as possible.
Conclusion
The HubSpot CMS is packed with features built for the enterprise, but without the complexity that you find in other content management systems. The HubSpot CMS makes it easy to manage and update content without needing a developer, and it works seamlessly with the Marketing, Sales, and Service Hub. At 900 dollars per month, you don't have to pay for extra storage, visitors, users or any other hidden fees. You will also save a lot of money on not having to be dependent on external developers or managing multiple third party solutions to manage website security.